Yard Act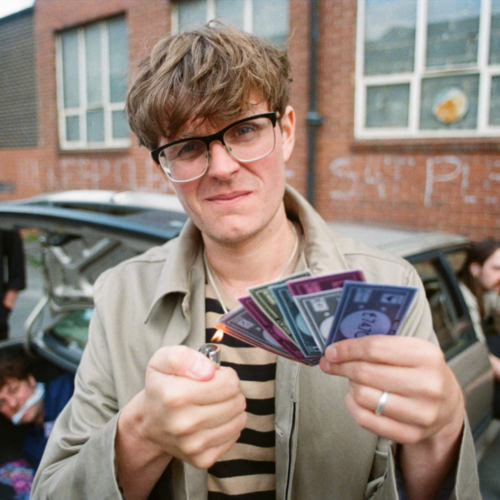 The Overload
—
Out January 21st 2022
—
Island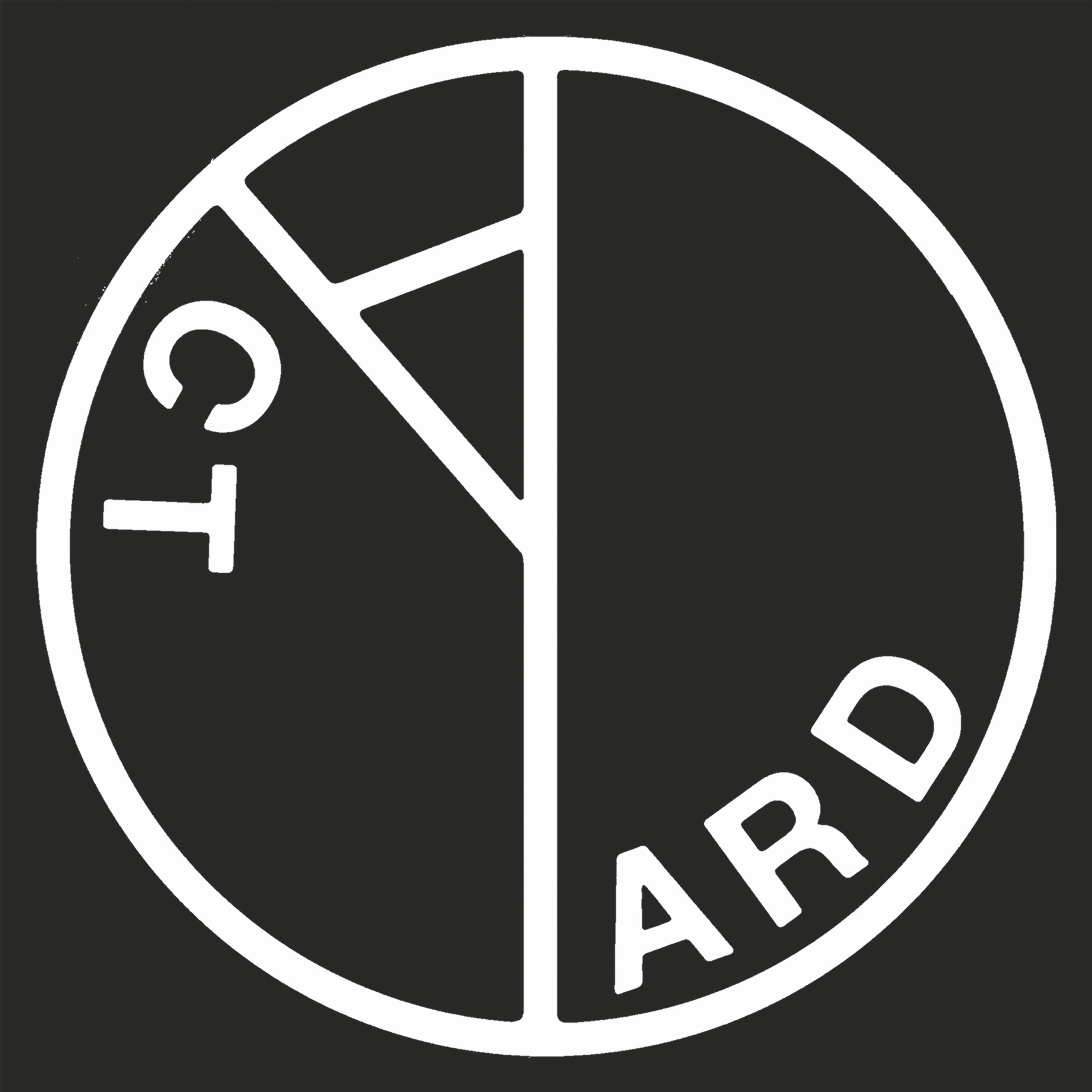 In a world of great polarity, nuance is normally the answer. We may shame and bicker and amplify our outrage, but at the core of it all, we're all still inhabitants of the same ecosystem, most of us trying to tow the delicate line between empathy and self-preservation. If nothing and no-one is purely good nor evil, true societal improvement can only come from recognizing some kind of middle ground.
In many ways, Yard Act is a project that exists through the fusion of seemingly opposing entities. Old friends in a new band, they seek out shades of socio-political grey, imbibing their stories with sharp, satirical spoken-word humour. Spearheaded by James Smith (vocals) and Ryan Needham (bass), the now four-piece, completed by Sam Shjipstone (guitar) and Jay Russell (drums), have built a sound that speaks inherently to their birthplace of Leeds, West Yorkshire, and yet ties together observations from all walks of modern British life – the small-town bloke in the local pub, the anti-capitalist stuck at a desk job, the tired activist in all of us torn between easy complicity and the desire to fight. Their sound and ethos might be progressive, but it's not about pointing fingers so much as opening eyes.
"Lyrically, I think it's a record about the things that we all do – we're all so wired into the system of day to day that we don't really stop and think about the constructs that define us," says Smith. "But also beyond that, it's kind of exciting, because there's still so much we don't understand; how a hive mindset is forged, how information spreads, how we agree and presume things without thinking. Some people think more than others, but a lot of this sloganeering – 'I'm on the left, I'm not wrong' – doesn't achieve anything. Gammons, Karens, Snowflakes, whatever – I find it all so boring. I'm just not into that."
What Yard Act are into is ideas. Having grown from relatively casual pub acquaintances to housemates, Smith and Needham found living together to be conducive to a high work rate, racking up demos in quick succession. Settling into a system of programming, looping and layering, the alchemy between the two created a base from which to build their narrative world. "Ryan is a vibe guy, whereas I overthink everything," laughs Smith. "It's been the greatest creative partnership I've ever had. When you find a groove that works, it just kind of looks after itself."
With just three hometown shows under their belt, world events intervened. But rather than letting the pandemic derail them Yard Act set up their own imprint, Zen F.C. and across the course of 2020 and into early 2021 released four increasingly coruscating, hilariously dark singles with 'The Trapper's Pelts', 'Fixer Upper', 'Peanuts' and Dark Days' all securing BBC 6Music play, and despite the circumstances developing a remarkable, ever increasing fanbase.
"One of the first reasons we started the band, before anything even took off, was to play live because we had fun playing live," says Smith. "but very quickly, we realised that we just loved writing songs, and writing songs isn't just about jamming in a room and writing those long noodly songs. It's a massive cliché, but we've always been influenced by pop music, and finding a way to present it in a way that feels like 'us'. The more people reacted to the spoken word thing, the more we felt encouraged; you can kind of hear how it gets more and more ridiculous as the singles came out. Positive reinforcement is how you explore and push the strongest bits to the extreme. And our extreme is just me talking loads — I'll talk until the track runs out!
Far from the self-indulgent bluster that Smith jokes about, 'The Overload' is a record of great dexterity and curation, the output of a band who were raised on a 00s digital-revolution buffet of wide musical influences. Growing up on US MTV Hip-Hop, minimal 70s No-Wave and sharp-witted British indie, Yard Act benefit from this rich tapestry of musical near-history, using it to create something that feels like more than a trendy pastiche. "There are generations of digital crate-diggers now that just absolutely love music and know how to navigate it," says Smith. "Old music becomes new music. It's made everyone less worried about the now I think."
While time-travelling in parts sonically, 'The Overload' weaves a very-2021 storyline. The group made the decision early on to leave 'Fixer Upper' and 'Dark Days' off their album debut ("it sounds arrogant, but we felt we had enough good songs without 'em"), but the joyous specificity of their early lyrical observation is still in fine evidence, plotting a visceral, satirical journey through capitalism and greed. Across the album's 11 tracks, an unnamed character – a bricolage of characters that Smith has met, imagined, or himself been – finds himself in quite the financial pickle, ricocheting from desk job to desperate illicit activity to police investigation, before culminating in the kind of half-cut personal epiphany that even the most law-abiding among us could relate to. Bookended by cheeky cameo's from 'Fixer Upper's' Graeme and a clear structure of four parts, there is no getting around it — Yard Act have written a soap opera.
"At Ryan's insistence, the record was actually called 'Yard Act The Musical' for a long time, but I've got a really weird relationship with musicals, as in I fucking hate them," deadpans Smith. "I don't want to overthink it, but I do like concept albums, and I do think stuff works better when it's given time to be gestated and let people pick at lyrics and think what they mean."
"We had about six standout tracks when we started thinking about an album, and from those, I saw a theme of money and capitalism, a sort of mockery of it. It's basically just a man in their late 20s, early 30s, who's always tried to fight against the system, stood up for things that they believe in and had a very strong moral compass. But it kind of crushes them in as many ways as it makes them happy – you sacrifice your beliefs for a life of comfortability, and still have to carry the burden of that decision."
For a record of some potential heaviness, a dark sense of humour is integral. The record's title track – its opener — plays like a raucous spaghetti western-themed night at the Hacienda, while 'Land Of The Blind's loose-swinging bass and jabbing guitars gives acerbic pace to its sordid tale of financial exploitation. The influence of post-punk is apparent, but the shackles of 'authenticity' have been shaken loose – "I think we could all feel that this post-punk thing was getting tired; 'Land Of The Blind' felt like quite a pivotal song in switching us away from what people thought we were."
Even through Smith's openly cynical lens, the world isn't an entirely cruel and hopeless place. As our character finds themselves in the reflective epitaph of the final three songs, they explore how they might have come to be; the narcissistic peers they grew up with ('Tall Poppies'), the Friday nights setting the world to intoxicated rights (synth-tinged "Pour Another'), and then '100% Endurance', a poignant, emotional release which finds some kind of freedom in the futility of it all, an opportunity rather than an oppression; "It's all so pointless/ But it's not though is it?" As a closer, it's entirely pivotal for the juxtaposition they're trying to achieve.
"When that came right at the end of the record, it felt like it really completed it by sounding different to the rest ." says Smith. "It's a little bit like a slip of the mask, which felt really important after a record of me being quite sarcastic, which I'm quite good at. It feels a bit like a gateway to where we can go."
Pulling off a debut album in a pandemic isn't easy, but somehow, Yard Act have made it work. Recording with Ali Chant (PJ Harvey, Perfume Genius, Aldous Harding) at his Bristol studio, those prolific demos have been sharpened down into something that speaks to the times we live in, creating a statement of intent that survives on nuance – a record of retro influences, recorded in a modern way, that manages to poke fun at society without punching down from a place of lefty superiority. 'The Overload' is a political record, but in the same way that all great observations of human nature are – a messy, complex, knowingly hypocritical snapshot of our current state of play.
"I just hope it makes people laugh at the peculiarities of human nature," says Smith. "The world feels very heavy at the moment; it has done for a while, and when bad things happen, the weight of the world makes you panic, you want to change everything like flipping a switch. But that's not how it works. All you can do is plant seeds. I don't think good and bad really exists, and I don't think you can change people's minds any other way.
"So that's what I hope, but I also just hope people can just enjoy it. And I hope it lasts. I hope people like the detail – I think we can learn a lot about each other through an observational smirk."