Philippe Cohen Solal & Mike Lindsay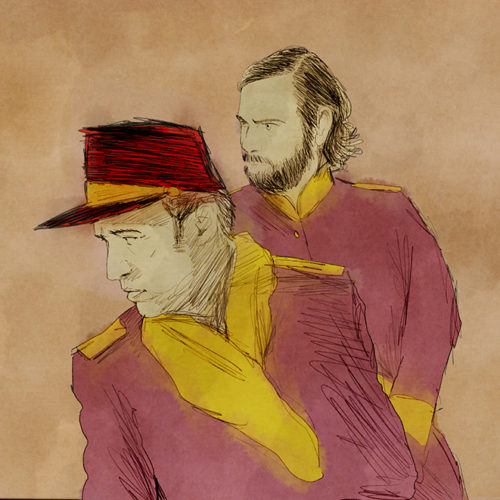 Outsider
—
Out Febuary 5 2021
—
Ya Basta Records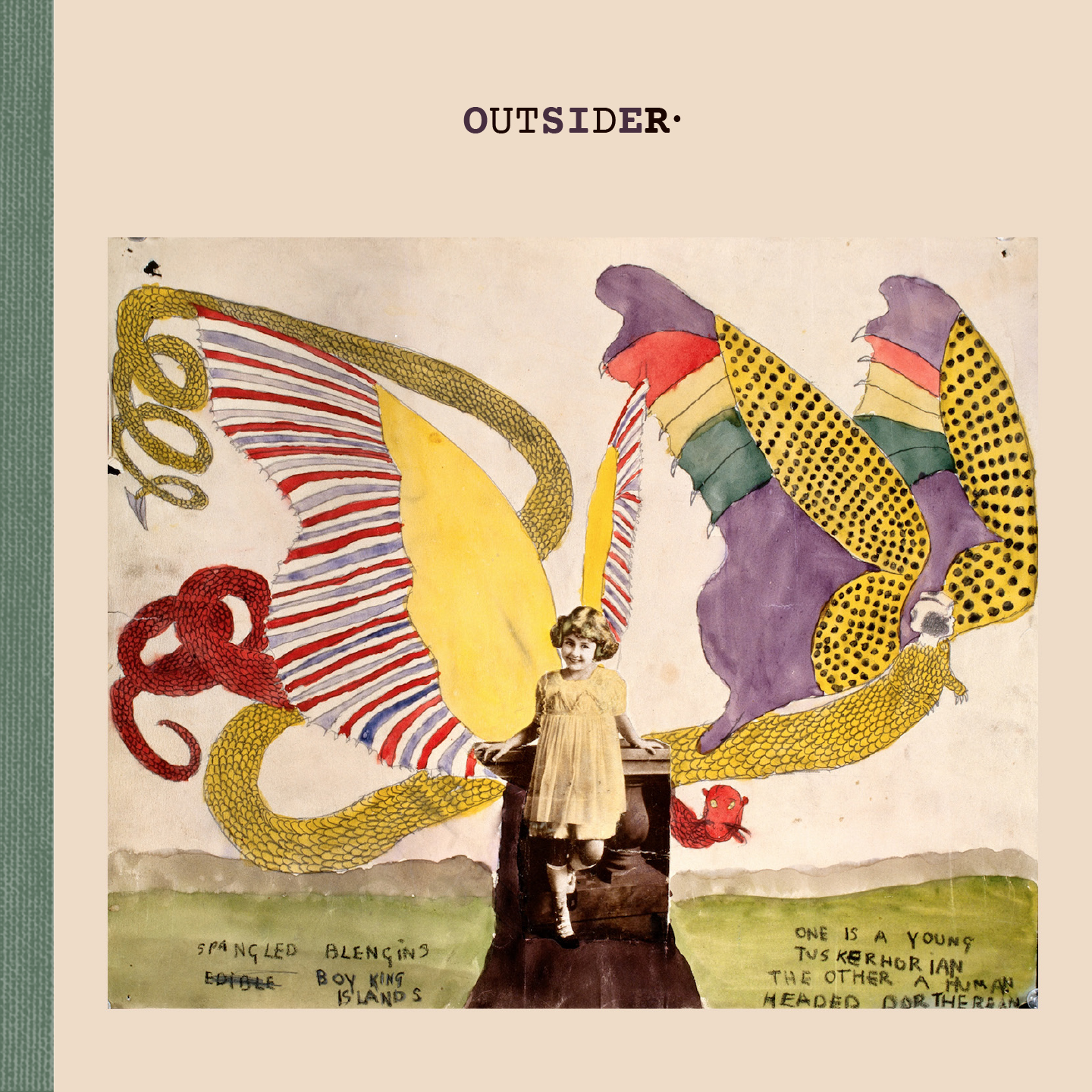 In North Side Chicago, in the middle of the 20th century, there was a reclusive hospital janitor who lived in one room – and who turned out to be an artistic genius. Henry Darger invented a whole world inside that room, making hundreds of paintings and collages, and writing fantasy novels that were 15,000 pages long. His work told the story of an ongoing battle between good and evil, where rampaging armies battled a band of brave children called The Vivian Girls. His work now sells for close to a million dollars. It is exhibited in galleries and museums worldwide and has influenced artists including Grayson Perry, the Chapman brothers and Paul Chan and has great admirers among musicians like David Byrne and Devendra Banhart.
Nearly a half century after Darger's death, Gotan Project's Philippe Cohen Solal and Tunng's Mike Lindsay present OUTSIDER, a tapestry of ten warm and resonant, rapturous pop songs and gorgeous visuals that transmit and translate Darger's story into the current day.
Following the release of the three track EP, comes the February 2021 album release. These are heart-soaked instant classics, sung by vocalist Adam Glover, with names like 'Hark Hark, My Friend, Cannon Thunders Are Swelling' or 'Can A Boy Forget His Mother'. They shimmer around the edges of altered states, luxuriously swelling through classic 1950s microphones, like Scott Walker at a pagan festival, music textured with mid-century Americana, under-the-radar found sound and hard weather. It's PJ Harvey's 'Let England Shake' orchestrated by Ennio Morricone in an illustrated world peopled by angels, valiant children, marching battalions, and vast, colourful landscapes depicting all of the above. These are not your average love songs.
The music began with the lyric sheets Henry Darger left among his paintings and sparse possessions. He left no clue about the music he intended, and with OUTSIDER, Philippe, Mike and their collaborators Hannah Peel and vocalist Adam Glover, have brought them to life in remarkable style.
Philippe: "I imagined Adam's luxurious, fantastically powerful and beautiful voice being the voice inside Henry's head, the projection of himself to be stronger, more powerful. There's something very magical about it. It's Henry's best version of himself coming out of the speakers."
The release first took shape as a five track EP, recorded over a handful of sessions in March 2015 in the Shoreditch studio Mike Lindsay was renting from synth collector Ben Edwards aka Benge. Multi-instrumentalist Hannah Peel had the room next door, and at that point was half a decade away from Emmy nominations and scoring 'Game of Thrones: The Last Watch'. Philippe and Mike drafted her in to record vocals, trombone, layered strings, 'bits of piano' and harpsichord.
Her brass playing brought bold resonances of war and battlefield and her layered strings bring romance, beauty and colour. "Hannah was so important. She personified the Vivian Girls from the realms of the unreal. It was very clear for us that [vocalist] Adam Glover in some way was Darger's voice and Hannah was Darger's characters. In a way she became the voice of the Vivian Girls," says Philippe. Hannah Peel concurs. "It's good. I love a bit of narrative."
The following December they decamped to LA and recorded drums and vocals using a RCA Ribbon microphone. "It's of a time, of Sinatra," says Mike Lindsay. "It creates that feeling." Whilst recording, they surrounded themselves with a diorama of Darger's images and used one per track to develop the visuals, which have been painstakingly made by Gabriel Jacquel and Pascal Gary aka Phormazero. The music has also been mixed by Grammy award winning Andrew Scheps (Adele's 21, Beyonce, Lana Del Rey).
OUTSIDER emerged slowly into the world, just as Darger's work emerged slowly into the world.
Realising a complex live show involving multiple galleries across continents was slow work and then in 2017 Philippe had a serious accident and almost died. It took him a year to recover, an experience which naturally slowed down everything. "I really believe in maturation in music," he says. "It took me some time to find the right way to expose the music and the whole project, all together."
The lyrics provided the starting point, especially once they began researching and realised that Darger had sampled the hymns he was hearing at the Catholic masses he attended three times a day, taking key phrases and altering them to fit the needs of his imagined world. The words also suggested a specific time-frame: "late 1950s and early 1960s production, with this contemporary twisted, textured edge to it, somehow making it sound quite timeless," says Mike.
The results, he says, "sound like a very twisted long-forgotten musical, with an evil twist and a very innocent blanket wrapped around it. It's classic, it's beautiful and it's experimental."
Hannah Peel: "You'd think the way he was writing, he'd gone to Woodstock on a crazy trip and then gone to church to cleanse his soul. He was a janitor but it's like he had about ten different past lives, and ten future lives … Musically, it's more resonant than ever. It's really energetic and full and so full of hope and beauty and I think that's really important with what we've all been through over this last year."
Back in 2003, just before setting out on a Gotan Project tour of the USA, Philippe Cohen Solal had dinner with an old friend. During dinner, his friend's father suggested inviting pianist Kiyoko Lerner to the concert, given her love of tango. Philippe took Kiyoko's details and invited her to the show. She reciprocated with an invitation to afternoon tea when he arrived in her hometown of Chicago. On tour, Philippe decided to visit New York's American Folk Art Museum, where he stumbled upon the Henry Darger collection and found himself transfixed. When he looked at the information at the side of the work he was amazed to read that the paintings had been loaned to the museum by Kiyoko Lerner – the very same Kiyoko Lerner who was coming to his concert, and who had invited him over to afternoon tea at her house.
It was the start of nearly two decades immersed in friendship and dialogue with Lerner, and in communion with Darger's work. In 2008 he spent a week in her basement, surrounded by the artist's paintings, words and microfilms, talking about him at breakfast, lunch and dinner. The proximity to the artwork created the seed of OUTSIDER.
So many years absorbing the artworks have created a deep connection for Philippe: "I feel I know Darger, so many years I've been reading his books and living with his work and words. I feel connected also because of the kind of child he was. He had a terrible childhood, really traumatising. When I was a child, I thought I was crazy. I really did. Everybody thought he was crazy, for real."
"The outside world was pretty mean to him when he was young and I relate it to what is happening to the world now: with autocrats and mean people … We call him an 'outsider artist' but he was very inside himself – and he created a whole world inside."
OUTSIDER's reflection of what it means to make art, by yourself, in one room has taken on extra relevance when so many of us are living in small spaces under lockdown. Philippe and his band of musicians have taken Darger's questions of isolation, imagination and a David and Goliath fight against evil and turned them into the strangest, yet most beautiful lullabies you'll ever hear. Onward!