Penguin Cafe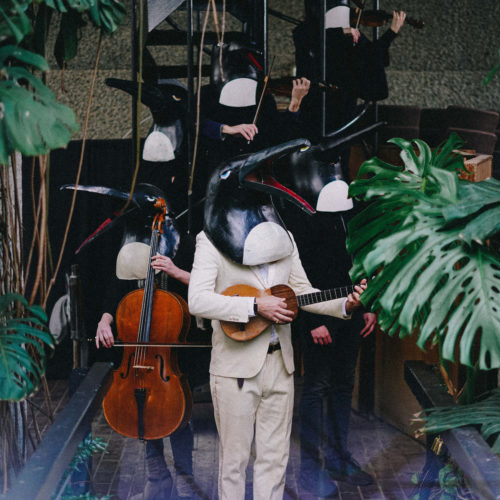 Rain Before Seven...
—
Out July 07th 2023
—
Erased Tapes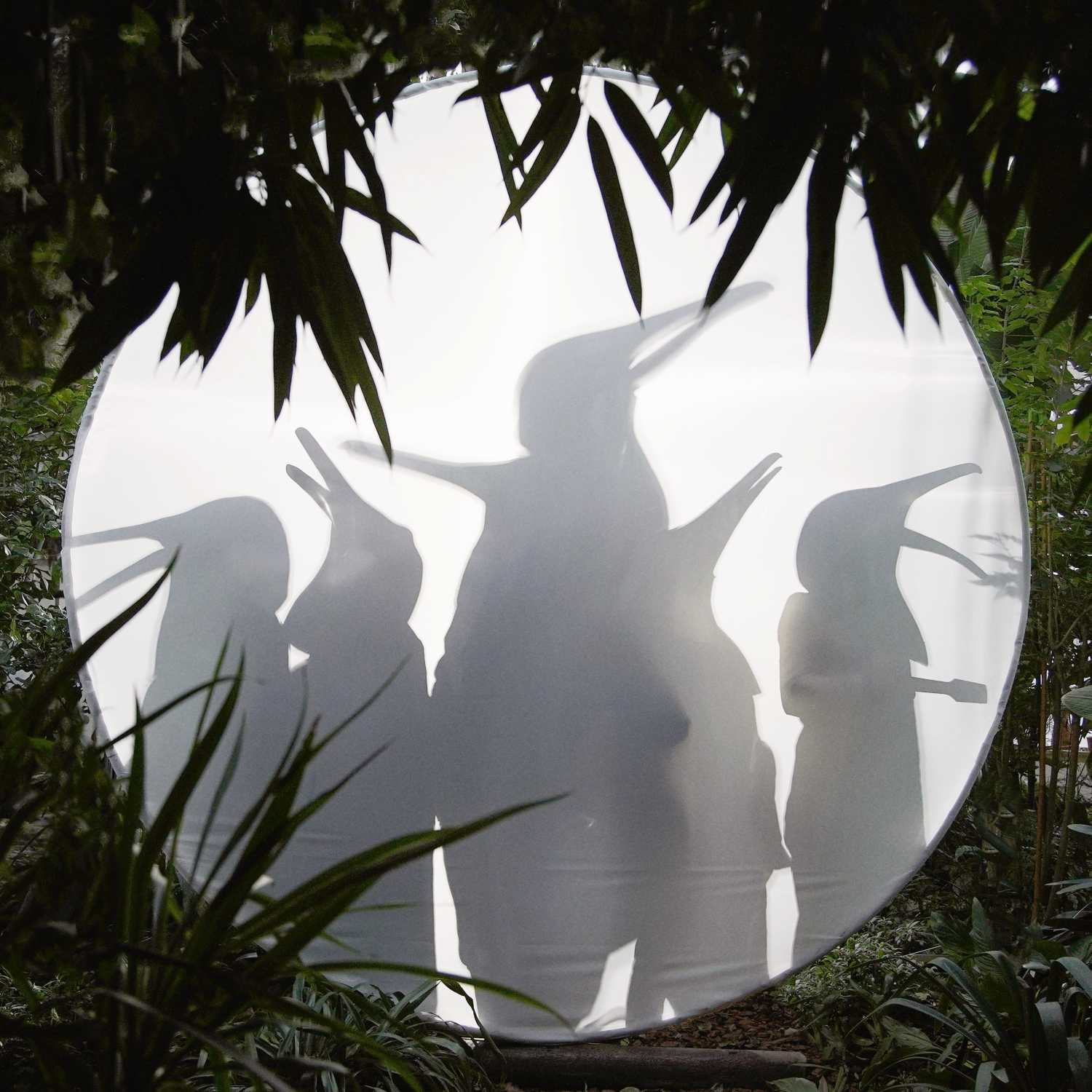 A sense of optimism infuses Penguin Cafe's fifth studio album Rain Before Seven… not the braggadocious, overconfident kind, but more a blithe, self-effacing optimism in keeping with the national character. Even when all signs point to the contrary, it operates within the certainty that things are going to be alright. Probably.
The title comes from an old weather proverb with the rhyming prognostication — fine before eleven — hinting at a happy ending, irrespective of the science: "I found it in a book and I'd never heard it before," says Arthur Jeffes, leader of Penguin Cafe. "It has faintly optimistic overtones and I quite like it. It's fallen out of usage recently but it does describe English weather patterns coming in off the Atlantic."
From the widescreen reverie of opener 'Welcome to London' with its cheeky nod to Morricone to 'Goldfinch Yodel', the self-described "Maypole banger" at the denouement, there's a welcome sense of sanguinity, always with an undercurrent of exotic rhythmic exuberance. Playfulness pervades, with a titular nod to A Matter of Life… from 2011, the last album title that concluded with an ellipsis. That Penguin Cafe debut is the bridge between the legendary Penguin Cafe Orchestra, led by Arthur's father Simon Jeffes, and the much-loved descendent, led by Arthur.
"Stylistically it's really satisfying to get back to playful rhythms and instruments," says the younger Jeffes, who kept the group's debut from 12 years ago in mind when writing the new album. "Certainly when starting out, I became aware that we'd stopped using quite a few of the textures that had been there at the beginning—and it was certainly there in my dad's earlier stuff. So there's a lot of balafon and textures from completely different parts of the world, musically and geographically: ukuleles, cuatros and melodicas that you can hear."
It'll become clear when listening to Rain Before Seven… that the themes explored transcend mere weather chat. In a sense, it's a sonic diary scribbled from below the parapet, waiting for the danger to blow over. Jeffes, like many of us, found himself in lockdown in 2020. COVID-19's first European destination was Italy, where he and his family were staying at the time in a converted convent in Tuscany, bought some twelve years ago with his mother, the celebrated stone sculptor Emily Young. There might be worse places to be stranded during quarantine than a hilly enclave surrounded by olive trees, though the family were faced with the same sobering fears and uncertainties that much of the world was forced to contend with.
And so titles often refer to personal experience during this period. 'Galahad' is a triumphant celebration of Arthur's beloved dog who died, aged 16, written in an irrepressible 15/8 time signature, and 'Lamborghini 754' is named after the 40-year-old tractor he bought for his mother, which he could see from the studio as she traversed the olive grove. Jeffes is the first to admit that he was fortunate to have space to manoeuvre, a luxury that was denied to millions living in cities and towns. Moreover, the plight of city dwellers seemed to eerily coalesce with a vision Arthur's dad had that would inspire the Penguin Cafe Orchestra into life in the first place.
The story goes like so: back in 1972, Simon Jeffes ate some dodgy fish whilst holidaying in the South of France, which caused him to hallucinate: "As I lay in bed I had a strange recurring vision," he said later. "There, before me, was a concrete building like a hotel or council block. I could see into the rooms, each of which was continually scanned by an electronic eye. In the rooms were people, everyone of them preoccupied…" Jeffes could make out "electronic equipment. But all was silence. Like everyone in his place had been neutralised, made grey and anonymous. The scene was, for me, one of ordered desolation." The antidote to this premonition of an uncannily familiar future was the freewheeling Penguin Cafe "where your unconscious can just be".
Simon Jeffes took "a slightly eccentric antiquarian approach" to assembling his music, according to Arthur, repurposing sounds that were unapologetically easy on the ear; a reaction, perhaps, to the earnestness of the post-war serialists, which happened to coincide with the rise of minimalism. "But he loved Boulez," adds Arthur, "and John Cage too. I think my dad felt that there was a lot of sub-Cage that didn't need to be there." Classical music dovetailing with pop and East African rhythms might not sound all that remarkable in the internet age (and in advertising, which PCO were never averse to), though in the 1970s they found a home on Brian Eno's Obscure label, such was the arcane nature of what they were doing. The Penguin Cafe Orchestra wouldn't remain recherché for long.
"I think his novel approach was to take interesting, weird ideas and do strange things with them," says Arthur, "but always while keeping an eye on making sure it sounded beautiful and emotionally engaging." That ethos has been carried into Penguin Cafe. "It's a commitment that we made when I picked it up again, because we play my dad's music but we also perform new music in the same sound world. That means I'm honour bound to keep an eye on the original thread and make sure we don't start heading off into thrash metal territory."
Nevertheless, encouraged by co-producer Robert Raths, the rhythmic elements of Rain Before Seven… have never been more to the fore and, at times, even hint at the electronic. 'Find Your Feet', for instance, is underpinned with more than just a pulse. Mixed by Tom Chichester-Clark, it brings to the musical melange what Arthur describes as a "near electronic feel". He adds, excitedly: "There are elements of fun here which we haven't really done with the last three records." Another ebullient highlight is 'In Re Budd', dedicated to the late ambient godfather Harold Budd, who Arthur discovered had died on the day he'd been writing the celebratory ear worm with a deceptively tricky syncopation. Played on an upright piano with some "prepared" felt to accentuate the bounce, Jeffes feels a track with an Afro Cuban Cafe vibe would appeal to Budd's contrariness.
And then there's the aforementioned 'Welcome to London', which got its name as the world started to open up and people were finally allowed to fly again. Jeffes, who touched down on home soil for the first time in a while, was struck by its cinematic John Barry-esque qualities as he took a taxi into West London from Heathrow with the mise-en-scène of the opulent twilight. The optimism is there, and maybe a little caustic irony too. "Robert [Raths] added a layer of nuance which I think is interesting, because many Londoners are not from London originally. So you pitch up to London as an outsider, and you haven't really found your tribe yet, you get mugged… and then 'Welcome to London' takes on a more sarcastic resonance."