Oscar Lang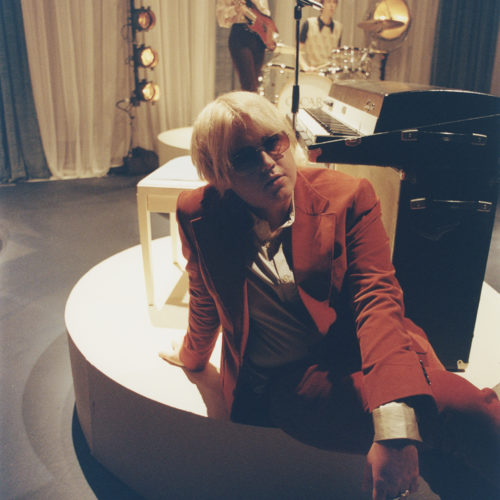 Look Now
—
Out July 21st
—
Dirty Hit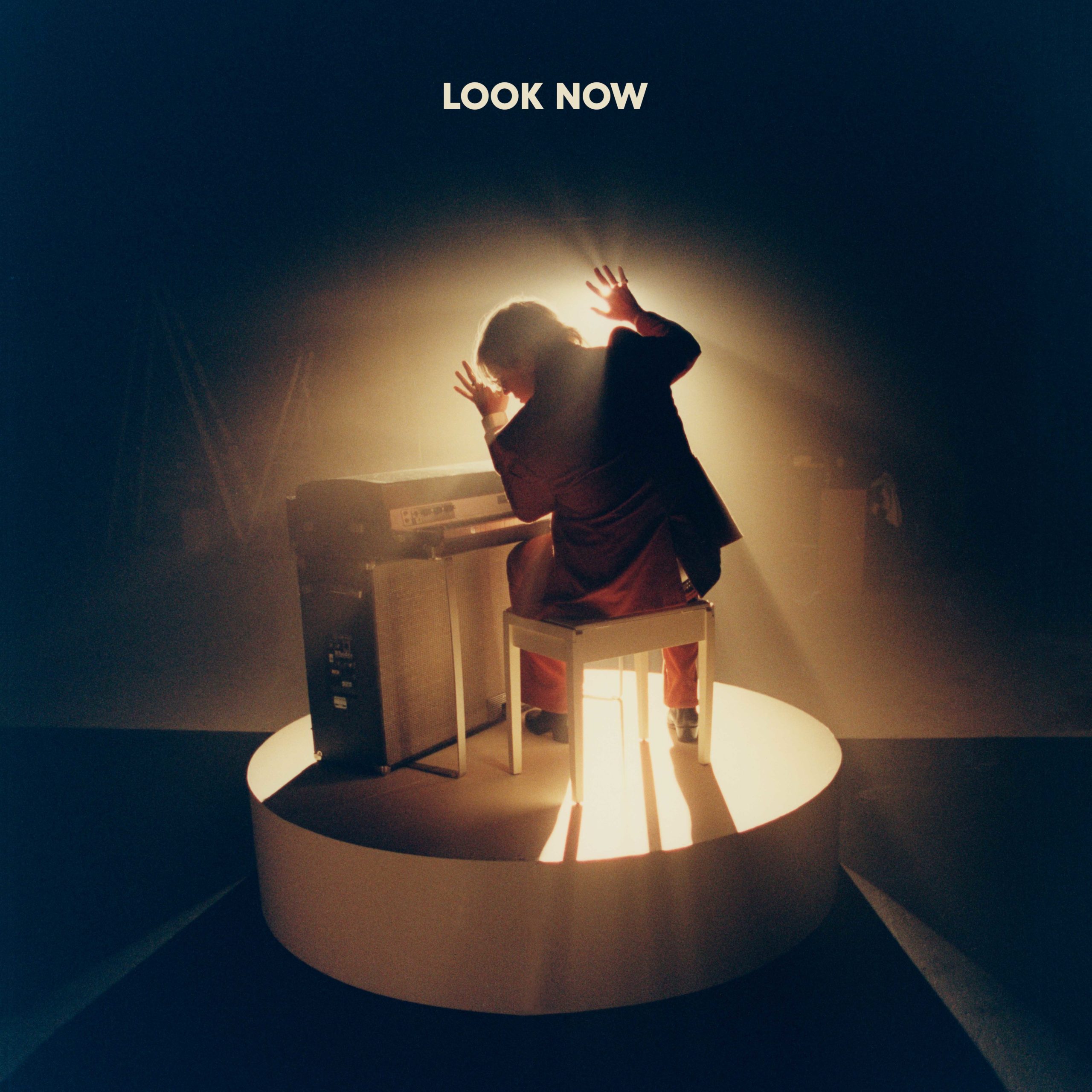 As Oscar Lang's second album hovered into view, the singer-songwriter, producer and multi-instrumentalist from West London imagined a sound that would blend upbeat 80s grooves, breezy indie-pop and a disco swing. Except Oscar Lang's second album does not blend upbeat 80s grooves and breezy indie-pop. It definitely does not have a disco swing. A split from his childhood sweetheart sent Lang spiralling, dramatically changing the course of the follow-up to the psychedelic-tinged fuzzy-rock of his 2021 debut Chew The Scenery at the same time as driving Lang into the most creatively fruitful period of his short career. "Going through a break-up completely changed everything," he says. "I started writing ballads about it and then realised, 'this is what I want it to be'. For a while, I was doing guitar rock songs trying to be a rock star but then I realised that I just really love ballads. My biggest inspirations are people that can just sit at the piano and sing a song everyone can relate to."
The diversion has resulted in Look Now, an astounding record that makes Lang's previous output sound like he was just testing the waters. Chew The Scenery and three melodically-breezy EPs that preceded it introduced Lang as a songwriter of rare talents but here is where he really lays down a marker, emerging with an album that takes in playful hooks, poignant lyricism, orchestral swells, baroque-pop instrumentation, a record that's expansive but never overblown, intimate at the same time as being epic. It is his definitive artistic statement.
Sonically, Lang already knew that he wanted something that would counter the creation of Chew The Scenery. "On that, me and [co-producer] Rich Turvey went into a big studio, spent a month there, recorded everything a million times and made sure it was perfect before we moved on." This time, they had everything they needed in one room inside Liverpool's Elevator Studios hub, a self-contained HQ from which Look Now's sonic landscape was built. "I love it because the album actually sounds like the room, it's an indescribable sound of a space and it reminded me of how I started, very DIY and everything would be a bit fucked up."
Lang immersed himself in piano ballads by masters of the genre such as Elton John, Billy Joel, Michael McDonald, Paul McCartney, Hall and Oates and more and began to map out a way to bridge that approach with a sonic dynamism inspired by the likes of US rock experimentalists Here We Go Magic, French indie-pop duo Papooz and the choral music he used to hear being dragged along to church as a child.
As he looked back over his career, Lang realised the songs of his that people had most connected with were those lifted straight from the pages of his life, not the fictional tales he was prone to weaving – material like his To Whom It May Concern EP, documenting when he first fell in love, or his early single She Likes Another Boy, which has become a TikTok go-to for anyone with an unrequited crush. "It warms my heart that my experience can translate to other people, so I wanted to bring that back," he says.
Plus, there was no choice but to write about himself anyway. The break-up plunged Lang into a period of depression and poor mental health, prompting him not just to try and process the loss of his girlfriend but also a way back to dealing with the tragedy of his mother's suicide when he was seven. Putting all of himself into these songs was the only way to get through. "Music for me is like therapy," he says. "When I'm low, I can make music and it'll take me out of it for a few hours. It's the only thing I can do in this world where I can sit down, blink, and it will take me out of it for a few hours. It's why a lot of this album is emotional for me. A song like On God is a lot to do with my mum and it was a real healing process. It's like I'd never talked so honestly about how I felt."
As the songs came flooding out, Lang came to realise that much of his creative energy comes from feeling low. "What I mean by that is that when I'm at extremes of emotions," he explains, "when I'm either falling in love and super happy, or really low and heartbroken, those are the times where I find I'm most creative. I suddenly want to write songs all the time and ideas are always coming to me. There are things you want to say but the only way you can say them is by writing a song."
The tracks on Look Now were written predominantly on piano, the first instrument that Lang learned aged 8 – he didn't pick up a guitar until getting obsessed with Guitar Hero about six years later. One was the piano in the Liverpool Airbnb he rented whilst making the record, and another was the piano his mum bought him that sat in his family house, where he moved back after the break-up. "I've had that piano since I was a kid and playing it feels like a weird connection to my mum," he says.
The piano in his Airbnb saved Lang from those long post-studio evening hours by himself. "It was the dead of January in Liverpool, freezing and pissing it down," he recalls. "I'd sit at the piano writing songs, sometimes singing through the tears."
It's where the warm, sad sway of opening number A Song About Me was written. "That was the song that really changed it all," he says. Lang's ex had asked him not to write about her, so he acquiesced, writing a song about her asking him not to write about her instead. "She hasn't heard it yet," he says. "You know, if you're gonna get an EP writing about falling in love with you, you're also gonna get some songs about feeling heartbroken!"
It's a track that perfectly sets the tone for Look Now, where the music often has an airy, lightness of touch that offsets the heavy topics. The psych-pop strums of Everything Unspoken showcases Lang's deft production skills, sounding busy and minimalist at the same time, the yearning Crawl injects its contemplations with a chirpy melodicism whilst Leave Me Alone documents a miserable night out with a Nilsson-style snark.
The push and pull of 'this is serious but let's make it a bit silly too' is what makes this wonderful record tick – Blow Ur Cash documents retail therapy in the wake of hairloss brought on by mental health issues but does it with an MGMT-ish swagger. Circle Line is a Beatles-y lounge-pop tribute to Lang's London hometown, whilst the spacious grooves of Take Me Apart feels very much like the album settling into landing pattern, the final four tracks a run of emotive ballads cast in different shades, the stark, minor-chord majesty of On God, the panoramic psychedelic folk of One Foot First reflecting on the after-effects of suicide and sweeping, gospel-ish closer When You Were A Child mourning the loss of young innocence. With strings composed by Owen Pallett and Molly Payton delivering an imposing guest vocal, it's a monumental way to finish the album. "I settled on that closing the record because it encapsulates everything," says Lang. "The emotions in each of the songs are about being an adult, emotions you don't feel or care about as a kid. The main theme of the album was dealing with loneliness, all of the emotions I felt going through this break-up. It was the toughest year of my life, the lowest I've ever felt."
He has come through the period with a record he feels "immensely proud" of. He's held nothing back. "It's why I called the album Look Now," he says, "because it felt like, 'if you're going to look, look now' because this is my place, this is when I feel like I'm home. I feel proud that out of this low, this record was the light at the end of it all." It's a remarkable piece of work, one that confirms Oscar Lang as one of the most captivating young artists in the UK today. Now, how about that upbeat 80s disco record?