Michael Rother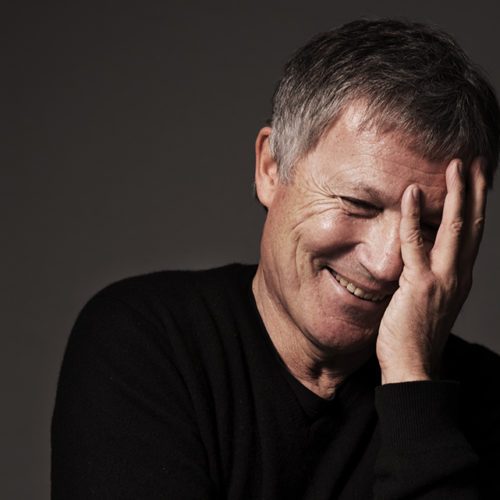 Solo II
—
Out September 4th 2020
—
Grönland Records / Pias
Michael Rother has always believed he dreams more than most people.
"Quite often I have wonderful visions of water, seasides, people and travels," he says. "Dieter Moebius recently appeared in one of my dreams, he was quite alive. That's what the brain does at night, it's some kind of cleansing of worries and stress, but it also connects to positive emotions."
These nocturnal travels are reflected in the titles of his new album, Dreaming, and of 1987's Traumreisen, or 'dream trip', a clichéd phrase German travel agents use in their brochures. With Rother, of course, almost everything has a secondary meaning.
The influence of dreams has always been apparent in the sounds he creates too, in their drifting moods and plaintive, evocative melodies. 2019's Solo boxset captured Rother laying down his own musical path after the end of Neu!, but this second offering instead finds him, his unique patch already staked out, engaged in a process of refinement. In the records contained here he's exploring his own boundaries, presenting detours, dead ends, blind alleys that open out onto vast sonic vistas; all are worth a visit.
"I was looking for new sounds," Rother explains of his later solo work. "After doing Neu!, Harmonia and the first of my own albums with guitars all over them, I needed some new sonic horizons."
The earliest records presented here show Rother working in fine detail, using the expensive Fairlight CMI synth and sampler to create the detailed, hyperreal soundscapes on 1983's Lust ('joy'). He stepped back from the electronic intricacy a little on 1985's Süssherz und Tiefenschärfe, with "Süssherz" – literally 'sweetheart', another word game as it's not a term used in Germany – perhaps the purest ever distillation of his guitar work, and a piece he remains pleased with.
Traumreisen (1987) is Rother at his most electronic, his guitar almost totally absent but his distinctive, folk-tinged melodies intact. Today, this and Esperanza (1996) are in many ways his lost albums, selling little outside Germany on release. Even within his homeland, interest in his music was waning by the mid-1980s, with his successful Flammende Herzen days behind him and fresh interest in Rother, Neu! and Harmonia still ahead.
"I was always running outside the music world," he says. "Major labels were puzzled by why I didn't play live. They didn't believe in promoting an artist who just worked in the studio, put an album out, and then started on the next one, so things got a bit rough for me in the late '80s. After Traumreisen came out, I presented a new album everywhere and got no positive feedback, so I started my own label in '93. I was happy because I could release my music, and it was alive again."
That rejected album was chopped up to appear as bonus tracks on reissues of his earlier work, but here it's presented for the first time in its original form. Recreated, it's revealed to be as strong as the rest of his LPs, with "The Doppelgänger", an atmospheric hymn to the guitar, a favourite of John Frusciante.
Remember (The Great Adventure), released in 2004, marked a change for Rother, featuring dancier beats and, for the first time, vocals from Sophie Joiner and Herbert Grönemeyer. Rather than a new start, however, it marked an end to his recorded work, with Rother leaving behind the studio to concentrate on his stellar live shows, first with Steve Shelley and Aaron Mullan as Hallogallo 2010, and latterly with Franz Bargmann and auxiliary Neu! drummer Hans Lampe.
"Making a new album is a lonely process, chewing on material for weeks and months and then going mad – I'd done it."
Aside from his soundtrack work and a few remixes, Rother didn't record again until early 2020. As Germany entered lockdown amid the coronavirus pandemic, his neighbour at Forst kept busy by building a hut. Rother, spurred on by his empty schedule, the quiet rhythms of isolation and the melancholy he felt at being away from his Italian partner, instead decided to construct a new album. The process was intense.
"My routine every day became the same. If I'd had concerts to play, these interruptions would have prevented me from focusing so deeply on this album. There's a lot of creative energy that needs expression, that needs to be channelled into something, and this was the right time."
There were scores of embryonic tracks from the Remember sessions to develop, to which his friend Thomas Beckmann had originally contributed some co-mixing and electronic beats – "I had a goldmine of ideas, about 75 sketches, and I knew there were some gems in there" – but Dreaming is very different to its predecessor. Crucially, Remember featured no guitar, while these new pieces are smothered in it: melodic lines harking back to Flammende Herzen, EBow drones reminiscent of Katzenmusik, crunchy rhythm parts that suggest Harmonia's more experimental moments, and even a nod to Brian Eno on "Fierce Wind Blowing".
"Your focus changes over the years. I knew that I wanted guitars, I wanted this element of human inaccuracy, spontaneity and variation, but 20 years ago for some strange reason I felt differently, so Remember was all electronics."
Most of the guitars on Dreaming were tracked in one pass, with Rother almost unconsciously composing the lines as he recorded. Joiner's vocals were the same – hazy, relaxed and utterly human – in stark contrast to the pristine sequencing accompanying her words and Rother's Stratocaster. "I was blown away by her voice," says Rother. "I still am."
Almost all the music in this box, from Lust to Dreaming, was recorded at Forst, by the steady-flowing Weser river, either downstairs in Rother's studio or upstairs in his apartment. While his first few solo albums featured production from Conny Plank and percussion from Can's Jaki Liebezeit, everything here, aside from Joiner and Grönemeyer's vocals, was conceived, performed and recorded by Rother alone. It suits him, being able to work to his own routine, lost in his dreams.
"I guess my taste is limited. There's a whole world of music, and I have narrowed it down to five per cent of the horizon. But I'm very happy, because if you get closer, that five per cent surrounds you, 360 degrees."