Jonathan Wilson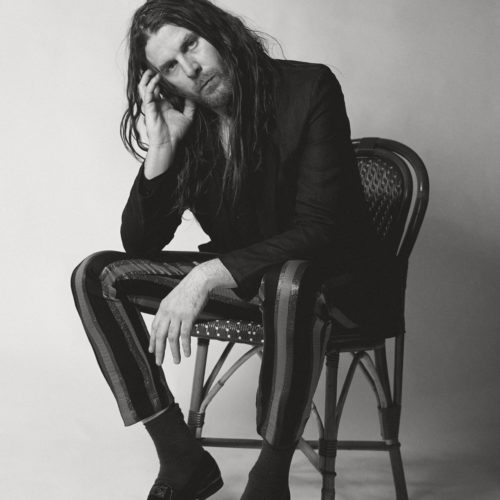 Eat the Worm
—
Out September 08
—
BMG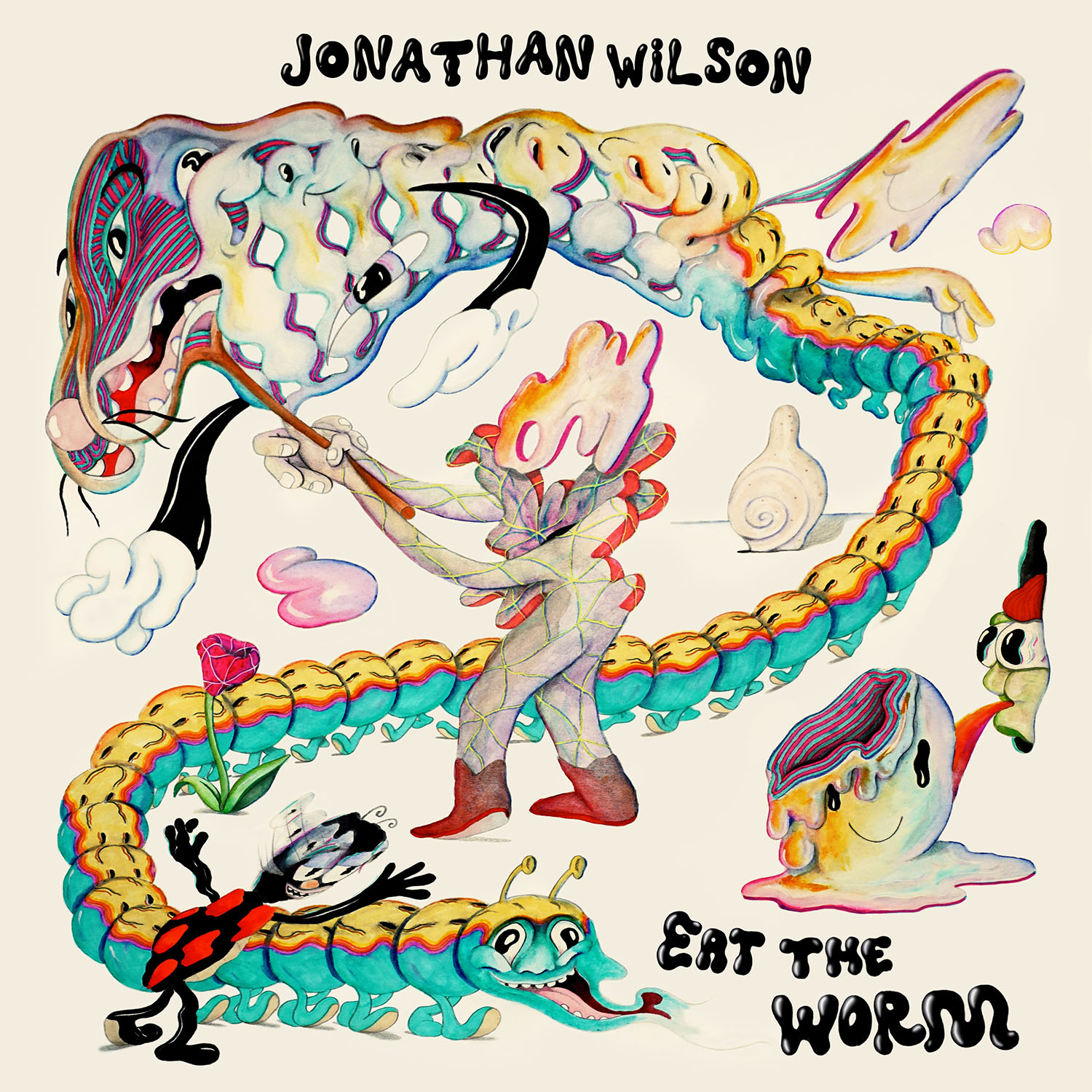 A couple years ago, while he was working non-stop producing albums for the likes of Angel Olsen, Father John Misty, Billy Strings and Margo Price, there was a moment of epiphany for Jonathan Wilson that arrived, not surprisingly, while he was listening to music.
Specifically, he had stumbled onto a deeply obscure track called "Warm Rumours" by the late Jim Pembroke, a British singer-songwriter who fronted the Finnish prog band Wigwam starting in the late Sixties. It was bonkers. Of course, Wilson loved it instantly. How had he never heard this music before? "The album is genius-level strange," he rhapsodizes. "It's like Zappa meets Beefheart, and he does all these weird talent-show announcer voices and just totally shoots the thing in the foot, as far as it being any kind of commercial success in 1972."
At the time, Wilson was in the midst of producing Father John Misty's latest album, Chloe & the Next 20th Century, recording at his idyllic Fivestar Studios in Topanga Canyon, CA, where he has everything set up exactly how he likes it, and there isn't any pressure to work fast. When Misty's Josh Tillman would leave the studio each day, Wilson would sit down at the piano he had mic'd and ready, and the idea for "Marzipan," the album-opening tune on Eat the Worm, began to materialize.
The piano riff came to him first, and as he followed his train of thought, inspired by Pembroke's unabashed weirdness, he found himself expanding comfortably into his own. In a series of verses, Wilson narrates his life when he lived in Brooklyn during his early twenties, rat-racing amongst blog-rock hipsters, and later connecting with his own love for folk music and country and jazz. In the bridge, he gets in a nod to Pembroke: "Well we've come to the part of the song right now / Where I'm gonna fuck around / Go for broke like my boy Jim Pembroke / He inspired me to do a little something right here / A little song and dance / A little "take a chance".
And with that introduction, we meet Eat the Worm, the brilliant and refreshing fifth studio album from the artist, producer and multi-instrumentalist polymath wizard Jonathan Wilson. A singer-songwriter, producer, recordist, arranger, player, vibe maestro, community builder, musician's musician, and true sonic architect, on par with the finest of his generation. It is fitting that he made his best album when he decided to stop trying so hard, as he is a true natural.
Wilson's creative life began in the early Eighties when he was growing up in a small North Carolina town, playing the piano and organ at his grandfather's Baptist church and soaking up the area's rich musical heritage. His father was a bandleader, so Wilson had proximity to music as a viable vocation, and he quickly took to learning all of the skills and crafts connected to making music, already on the path to his current mastery. Along the way, he had success in the late Nineties with his rock band Muscadine (the late Seymour Stein himself signed them to his label Sire Records), after whose break-up he relocated to Los Angeles and quickly became a fixture of its local music scene.
In the 2000s, while working as a luthier, making highly in-demand custom guitars, he began holding now-legendary jam sessions at his then-home in Laurel Canyon: guests included everyone from members of Tom Petty, Wilco, the Cars, the Black Crowes and Bright Eyes' Conor Oberst, among many other Wilson collaborators. Present as well as a new generation of LA rock artists such as Dawes, with whom Wilson later worked as a producer. He started releasing solo albums in 2007, and quietly built an acclaimed catalog of independent albums including 2013's Fanfare, 2018's Rare Birds and 2020's Dixie Blur.
"It sounds crazy because I've been at this for more than twenty years, but this is the first time I really feel like I found my thing – it's kind of a trip that it took this long," says Wilson. "I finally feel like I found a way to express things I really want to say. If I want to be an asshole for like a minute I can. If I want to sing a song to my wife about our day in the canyon, that's OK, too," he says, in the latter case, referring to the album's one love song, "Hey Love" – an ode to his wife, the artist Andrea Nakhla, that Wilson also performed at their wedding. "For this album, I wanted to break out of any and all comfort zones I may have lapsed into as a writer, narrator, producer, or player."
"A lot of this batch of songs is a reaction to the production stuff that I do," Wilson says of the new album. "I would be in the studio, doing long days with folks, and I'll have some wild off-the-wall ideas and they're like, 'no, no, no, that sounds crazy, JW. So I would save it up for my album. I'm finally at a place to feel totally free to take chances and resist the urge to dumb things down, It's got to be kind of strange."
To that end, Wilson gave himself plenty of time to let the songs unfold over the course of the last two years. Having his own studio also allowed him to devote as much time as he wanted to fine-tuning the tracks. "There are a lot of details to the songs. I felt like this album was also time for me to expand my sound, so there are way more strings and horns than I've ever done before," he says. "I wanted to apply some of the sonic palettes of other productions I've worked on to my own music. "
Burning the candle at both ends as he worked producing more than a dozen albums for other artists simultaneous to making Eat the Worm, Wilson amassed more than twenty songs over the course of 2021 and 2022, discovering a new comfort level in filling the tracks with whatever his instincts might dictate. "There was a lot of experimentation," he says. "'The Village Is Dead' started with me sitting at the drums and then I made the song fit the drum track. For 'Bonamassa', it was just a sketch of some weird fucking beat and the fucking jaw harp. Like, what is that? I was on one to make something like that, and then – boom! – it was a song." He recorded and produced most of the songs alone, bringing in only his favorite and most frequent collaborators, Drew Erickson (keyboards /string arrangements) and Jake Blanton (electric bass).
He also began to find that, vocally, "this sort of narrative, rhythmic sing-talk thing started to reveal itself and felt really natural." The lyrics were another area where Wilson stuck with his new, instinctive approach, the songs are filled with vivid surreal scenes with a crazy cast of characters.  We see him confronting his ego, as well as skewering some of the bullshit aspects of the music industry. In "B.F.F.," he sings about an earlier version of himself: "Yes I was paying to play / Ego was eating me alive / I was living a bald-faced lie / But I was making epic scenes / Doing interviews in all the magazines / And making weekend trips to the bonafide wild-eyed countryside," and in the wistful "Low and Behold," he offers a more optimistic take: "Low and behold / By the grace of God / I am not in debt / Nor am I owed / Never bought / Never sold / I am an island, I define success/ As never having to be told jack shit again."
As the music industry becomes more unsustainable and oversaturated with people trying to hack the algorithm of success, Jonathan's multifaceted career in music has afforded him the freedom to stay true to his vision and indulge his wildest creative impulses in his own music. "Part of my solo career and previous years of touring and bringing a band around the globe had to die for me to be able to make this music. I had to be completely devoid of monetary expectation or self-awareness of how my music may be perceived by others. I guess I wanted to hang out in my own lane more than I ever have on previous albums."