Jeremy Dutcher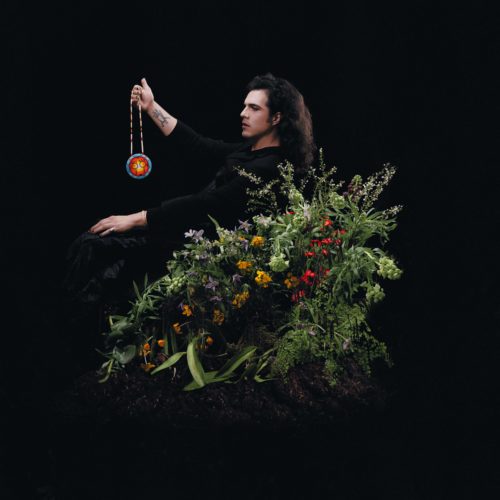 Motewolonuwok
—
Out October 06, 2023
—
Secret City Five years after winning the Polaris Music Prize with his ground-breaking debut, Jeremy Dutcher has returned with a moving and radiant exploration of contemporary Indigeneity and his place within it. With songs performed in his people's Wolasotqey language but also, for the first time, in English, Motewolonuwok demonstrates a range and depth beyond anything the musician has made before, encompassing traditional song, starlit ballads and staggering orchestrations. "When we engage with our stories, and our sad stories—what's the golden thread that's in there?" he asks. "I wanted to sing out the pain, and point us to the beauty." 
"With my first record, the concept was so clear, so complete," Dutcher says. Wolastoqiyik Lintuwakonawa, released in 2018, vaulted Dutcher into the upper echelons of Canadian performance, from the Polaris and Juno Award stages to the judges' panel on Canada's Drag Race. But few would have predicted its success: the album began as a museum research project, exploring wax cylinder recordings of Wolastoqiyik song-carriers—Dutcher's ancestors. The musician, a trained tenor, eventually duetted with those voices, singing back to his own community in the form of lush, reimagined songs.  
This time, Dutcher says, he wanted to make an LP "that wasn't always so sure of itself." A record that is more intimate. More personal. More questioning. A record inspired by an observation from the Yupik thinker Richard LaFortune—that "the place where two discriminations meet can be a dangerous place to live." That intersection can also breed resilience—and, through resilience, strength. "Motewolonuwok" is an old Wolasotqey word that's usually translated as "witches." It's been applied to the Two Spirit people of the area—folk who are Indigenous and queer, as Dutcher is, and the inheritors of a specific traditional heritage. But there's a further translation of "motewolonuwok," too, and its message is at the heart of Dutcher's album. "They're 'the people of great spiritual power,'" he explains. "The honour and the strength of that, rather than it being something to be ashamed of." 
Dutcher came out as gay when he was 12—but even that idea, of "coming out," was imposed upon him by a colonialist framework. "The whole Two Spirit or Indigenous queer identity is so beautiful because it's not rooted in a deficit narrative." Yet "a lot of that old knowledge has been lost," he says, and as a child growing up in New Brunswick—even as an adult who now lives in Montreal—it's a "middle space" he's still exploring. Motewolonuwok is therefore a stepping-through and singing-into that identity. It's a wish. 
And you can hear the wishing in it. On "'tahcuwi Anelsultipon," Dutcher stands almost alone on a stage, singing about devotion. "The Land That Held Them," his tribute to "the ones taken too soon," shudders with a force that recalls Nina Simone and Anohni. Elsewhere, instead of a small and nearly private sound, Dutcher reached for the largest possible frame: a full orchestra, with arrangements by Owen Pallett, and, on tracks like "Sakom," a 12-voice choir made up of Dutcher's queer and allied kin. Feeling like a summer-camp counselor, the singer chartered a coach to bring them to record in Kingston— buddies from Halifax music-school, friends from his old job in a church choir, members of the Toronto jazz scene and the beloved Queer Songbook Orchestra. Without any sheet music or fluency in the Wolastoqey language, they found their way through call and response—"a message of collectivity streaming through the poetry." 
Listen to Motewolonuwok and hear an album of multiple voices. There's Dutcher's, more exposed than you've ever heard it. There's his impromptu choir. You'll hear re-interpreted traditionals from the banks of the Wolastoq River, and others featuring poetry by the Cherokee poet Qwo-li Driskill. Dutcher sings in Wolasotqey—literally his mother's tongue—but also in English, the language of his father (and the one he mostly grew up speaking). He admits he was reticent to do this—the main intent of Wolastoqiyik Lintuwakonawa was to create in his people's language—"but I needed to contextualize my own story," he says. "That middle place." Shared tongue is a gift with a complicated reason; on Motewolonuwok, Dutcher sings not just to his community but "directly to the newcomer [settler]," in their own language, telling stories of grief, resilience and emergence. 
Making music is like learning a language, Dutcher says— "there's no particular ending-up." Instead, it's an "unfurling": a constant exploration of what you want to say and how you can express it. Motewolonuwok, out with Secret City Records on October 6, 2023, is the musician's next chapter—a collective wish and a corrective medicine, a confession and a chorus, forty-eight minutes that hang in the air like the echo of a chord.