High Pulp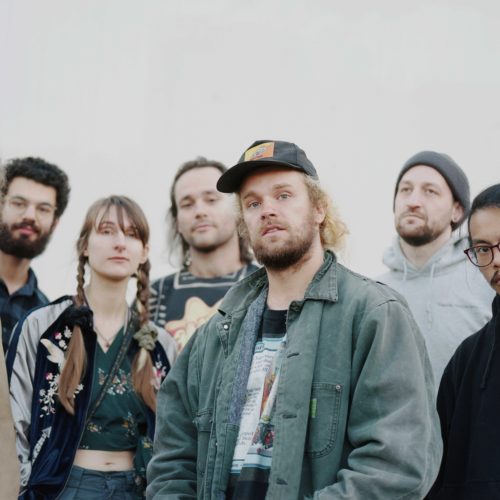 Pursuit Of Ends
—
Out April 15th 2022
—
ANTI-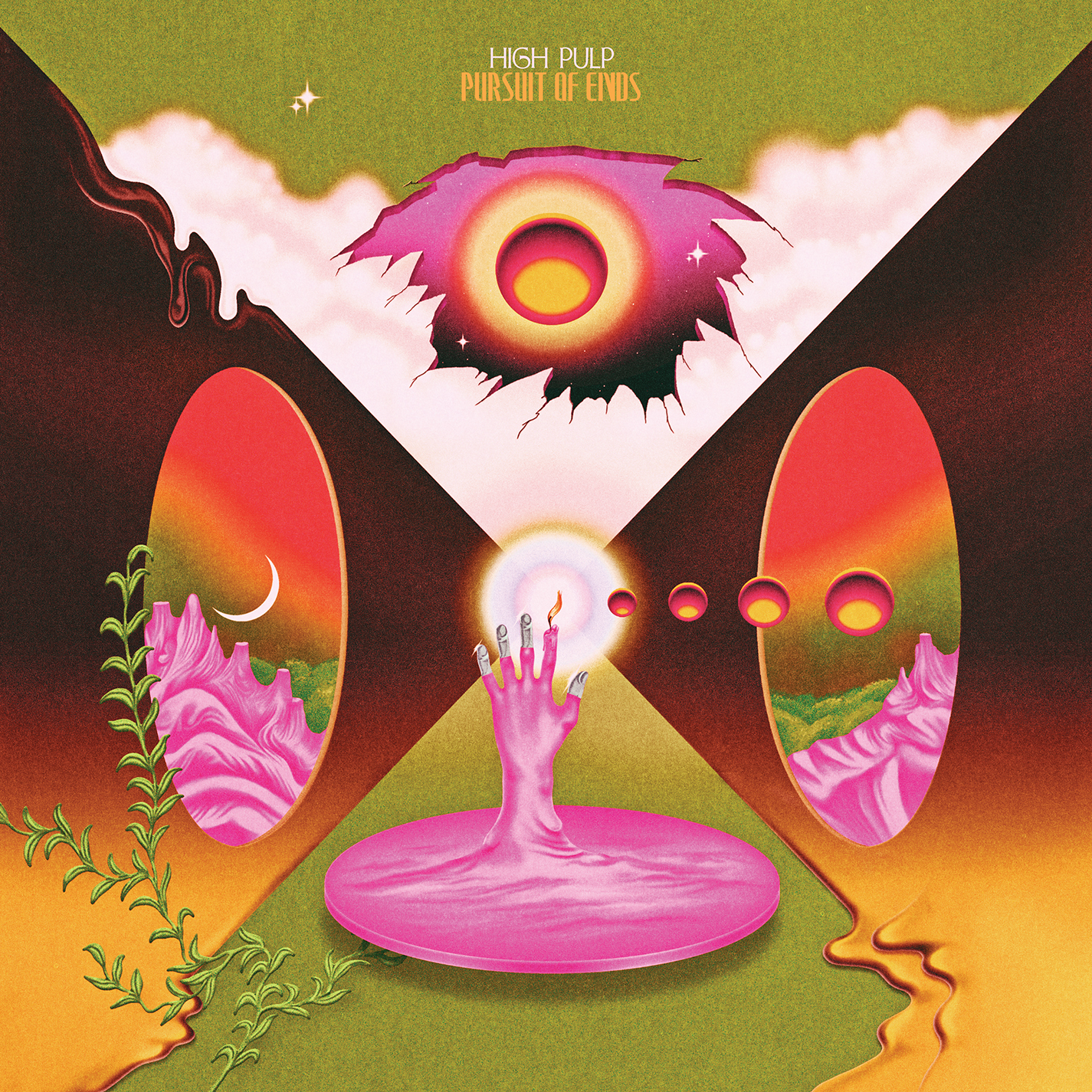 "We're a bunch of outsiders who refused to be kept out," says High Pulp drummer Bobby Granfelt. "We've never had an academic approach to jazz—most of us grew up playing in DIY bands—so it was the rawness and the energy and the absolute freedom of the music that called to us in the first place."
Indeed, there's something defiant, something utterly liberating about High Pulp's remarkable ANTI- Records debut, Pursuit of Ends. Drawing on punk rock, shoegaze, hip-hop, and electronic music, the band's brand of experimental jazz is both vintage and futuristic all at once, hinting at times to everything from Miles Davis and Duke Ellington to Aphex Twin and My Bloody Valentine. The songs here balance meticulous composition with visceral spontaneity, and the performances are nothing short of virtuosic, fueled by raw, ecstatic horn runs ducking and weaving their way around thick bass lines and dizzying percussion. While the Seattle-based collective is centered around a crew of six core members, they also make judicious use of a broad network of collaborators on the album, wrangling special guests like sax star Jaleel Shaw (Roy Haynes, Mingus Big Band), harpist Brandee Younger (Ravi Coltrane, The Roots), GRAMMY-nominated trumpeter Theo Coker, and keyboardist Jacob Mann (Rufus Wainwright, Louis Cole) to help stretch the boundaries of their already-expansive sonic universe. The result is a lush, cinematic collection that's as unpredictable as it is engrossing, an urgent, exhilarating instrumental album that manages to speak to the moment without uttering a single word.
"We were trying to distill how it felt to exist in the midst of all the chaos and confusion unfolding around us with these songs," reflects Granfelt. "The music was our medicine."
Music has been more than just medicine for High Pulp these past few years; it's also been a source of community and meaning. Born out of a loose, weekly jam session hosted at Seattle's historic Royal Room, the band came together the way a good heist crew might. There was keyboardist Antoine Martel, a mad scientist with a wall of modular synthesizers and a passion for film scores and abstract soundscapes; keyboardist Rob Homan, whose innate ability to process, deconstruct, and reassemble material on the fly bordered on the scary; bassist Scott Rixon, a convert from the metal and hardcore world with impeccable pop sensibilities and a selfless ability to serve the song; tenor saxophonist Victory Ngyuen, a Pharoah Sanders acolyte with an ear for urgent, entrancing solos of the highest order; alto saxophonist Andrew Morrill, whose bold tones and fearless harmonic sensibilities earned him a reputation for pushing the old school into the 21st century; and last but not least, Granfelt, whose hip-hop- and bebop-inspired drumming laid the foundation for the entire project.
"When you put us all together, our sound isn't so much a fusion as it is a synthesis," says Granfelt. "There's a lot of different personalities coming from a lot of different places, and we use it all as fuel to create something that's totally our own."
After building a local following in Seattle, High Pulp emerged onto the national stage in 2018 with the release of their full-length debut, Bad Juice, which garnered widespread praise and helped score a record deal with the UK-based KingUnderground label. The band then released a three volume set of EP's titled Mutual Attraction, which includes reimagined works by artists such as Sun Ra, Cortex and Frank Ocean, to name a few. The Stranger raved that "the band's multitudinous members interlock with loose-limbed precision to create a nuanced amalgam of funk, jazz-fusion, and R&B," while KEXP lauded that the collective is "deeply rooted in investigating and exploring as many different forms of music as possible while still retaining a signature sound and ethos." The band toured extensively behind their prolific output, working their way up and down the West Coast with an ever-evolving cast of musicians until the COVID-19 pandemic finally forced them to abandon the road and return to their respective home studios.
"Having to start working remotely actually allowed us to try things that I don't think we ever would have otherwise," Homan reflects. "The process enabled us to walk the line between our more freewheeling, improvisatory jazz instincts and our more highly composed, electronic impulses, and what we ended up with was a really satisfying balance between the individual and the collective."
That balance lies at the heart of Pursuit of Ends, which opens with the dreamy "Ceremony." Mixing dense, mesmerizing soundscapes with a perpetually off-kilter time signature, the song is both inviting and unsettling, ushering listeners into the album's verdant, sometimes volatile world. The frenetic "All Roads Lead To Los Angeles" hints at the breakbeats of Louis Cole as it reflects the constant barrage of stimuli that define our modern lives, while flashes of Red House Painters and Kareem Riggins cut through the hazy "Blaming Mercury," which reckons with the swirl of uncertainty and confusion that's dogged us all these past few years, and the airy "Chemical X" tips its cap to Thom Yorke and Jonny Greenwood as it reaches out in search of levity and transcendence. Complex as the arrangements can get—the rich "A Ring On Each Finger," for instance, opens with an 11-part wind, horn and piano chorale —the songs never lose sight of their emotional foundation, and the band's well-timed exercises in restraint are just as admirable as their dazzling solos.
"Everything ultimately needs to support the song and not the ego," reflects Granfelt. "That can be tricky when you've got so many musicians who all have something to say, but a big part of the ethos of this band is keeping ourselves in check and remembering why we're playing the music and where we're coming from."
Perhaps no tracks speak to where the band is coming from quite like the pair that close out the record: the kaleidoscopic "Wax Hands," which channels the psychedelic, Escher-meets-Dali vibes of the album's cover art, and the alternately pensive and aggressive "You've Got To Pull It Up From The Ground," which grits its teeth and leans into the moment with an embrace of chaos and cacophony.
"When your back's against the wall, you can tap into a certain amount of will power to push your way through," says Granfelt, "but it's not just going to be sitting there waiting for you. You've got to dig it up. You've got to unearth what's already there, and I feel like that's what we're doing as a band, both sonically and emotionally with this album."
And from that tangle of roots grows something wholly new, a synthesis of past, present, and future sounds that's high energy, high art, and 100% High Pulp.