David Brewis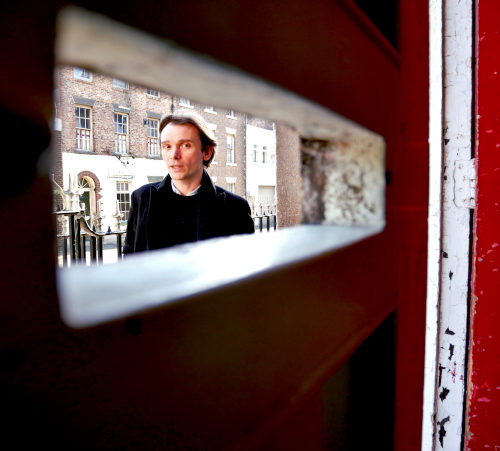 The Soft Struggles
—
Out February 24
—
Daylight Saving Records
"On 24th February 2023 we'll release The Soft Struggles. It will be the first album released under my name, after a trio of albums as School of Language and a whole host with my brother Peter as Field Music. It will also be the second album release on our own label, Daylight Saving Records, which we intend to be a home for all of our non-Field Music extra-curricular projects. The new label will also be a home for other music close to our hearts, such as Slug's Thy Socialite! album which launches the label in January.
Whenever Peter or I release music outside of Field Music we're asked, "what makes this different from a Field Music record?" Well, my best explanation is that in Field Music it feels like we're aiming for a synthesis of everything we're interested in at any one time. With each record we add a few more ingredients to the pot and some flavours drift into the background. But when either of us just want to focus on one thing, on one particular palette, that's when the solo projects and extra-curricular activities come into their own. The Soft Struggles does indeed have a very particular focus and very particular palette.
I don't have much patience for rock mythology, but if there's one romantic notion I cling to, it's that there's something a bit magical about a bunch of musicians in a room being thrown in at the deep end – the snake pit at Motown, the Stax house band in their converted cinema, the Wrecking Crew squeezed into Gold Star, Mickie Most corralling Jim Sullivan and Herbie Flowers into whichever Denmark Street studio would give him the best deal for three hours of hit-making. Don't get me wrong, I have laboured over records, second- (and third- and fourth-) guessed vocal takes and um'd and ah'd over the tiniest mix tweaks. But so many of my favourite records were made quickly by musicians sitting a few feet from each other, playing songs they'd never even heard before the session began. That's what I tried to do with this album. A chord sheet, a set of lyrics, a brief chat about tempo and then, okay comrades, see you at the other side. And so, in that spirit, one day last spring, with Peter on drums, Sarah Hayes (Admiral Fallow, You Tell Me) on piano and flute, and Faye MacCalman (Archipelago) on saxophone and clarinet, we did just that.
I may have been aiming towards the luminosity of Van Morrison's Astral Weeks (helmed by producer Lewis Merenstein, with his own all-star, in-at-the-deep-end ringers, Richard Davis on bass and Connie Kay on drums) or the breathy, weightlessness of Colin Blunstone's One Year, or even the kooky eclecticism of Donovan's psychedelic years, but I was happy for this set of songs to go where the musicians and the situation took them. And if the songs, and my singing, couldn't hold the whole thing together then at least we would have a curious vanity project to file away in the bulging Field Music archive.
In fact, there was one song where my singing was clearly not up to the task. On When You First Meet, I'd written myself into a key where my voice could not follow. Fortunately, Sunderland singer-songwriter Eve Cole did me a favour and came along to rescue it. That a voice with her youth and clarity would sing a song grasping towards romantic wisdom seemed fitting, especially when enveloped by strings played by our regular string quartet collaborators, Ed Cross, Jo Montgomery, Chrissie Slater and Ele Leckie. Writing arrangements for them remains one of my deepest musical thrills and only very occasionally a struggle.
Wrestling with crescendos and trills might be a fairly specialised chore, but I hope that the rest of the soft struggles on this album aren't so esoteric. Probably lots of us feel guilt about our procrastinations (It Takes a Long Time), or disappointment that we haven't reached the peaks we'd imagined for ourselves (High Time). Most of us will have moments where weariness seems insurmountable but somehow or other we muddle through (Start Over), and sometimes we do that by convincing ourselves that the travails we're up against must eventually end (Tomorrow).
These days I also share some soft struggles with my children. My daughter tripping over her own imagination with a coterie of invented friends with sensational tales to tell (Keeping Up With Jessica) or my son reminding me so much of myself that I don't know whether to laugh or cry (The King of Growing Up).
The album's almost-closer, The Last Day, grew from a project with North-East poet Paul Summers and a group of young people who were nearing their school-end exams. As a starting point for the young people, I turned my own last day reminiscing – complete with mild threat and underage drinking – into a song. The initial demo was something of a Velvets-style chug but with Peter's hard-swung march and an added brass arrangement (with trombones by David Smith and Craig Hissett and saxophones by Pete Fraser) it found a place on this otherwise gentler record.
From our entire combined catalogue, this album is possibly the furthest away from any recognisable "Field Music sound"; the thoroughly-unplugged instrumentation, jazz-inflected songwriting, spontaneous ensemble playing, including dazzling contributions from Sarah Hayes and Faye MacCalman, and lush string arrangements which twist around and punctuate the songs. And perhaps, like the experiments of School of Language or The Week That Was or Frozen By Sight, this album will eventually become part of Field Music's bubbling stew. Or perhaps not."
David Brewis, Sunderland, November 2022.