Braids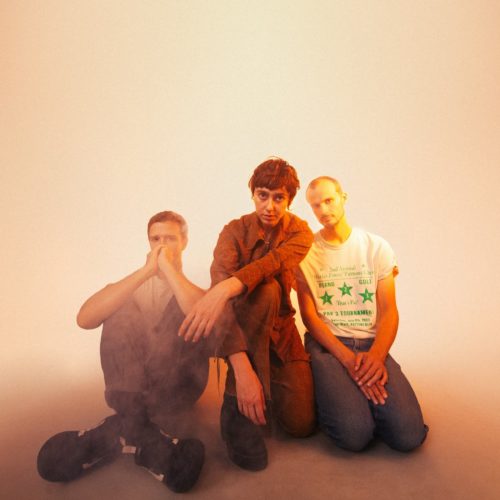 Euphoric Recall
—
Out April 28
—
Secret City Records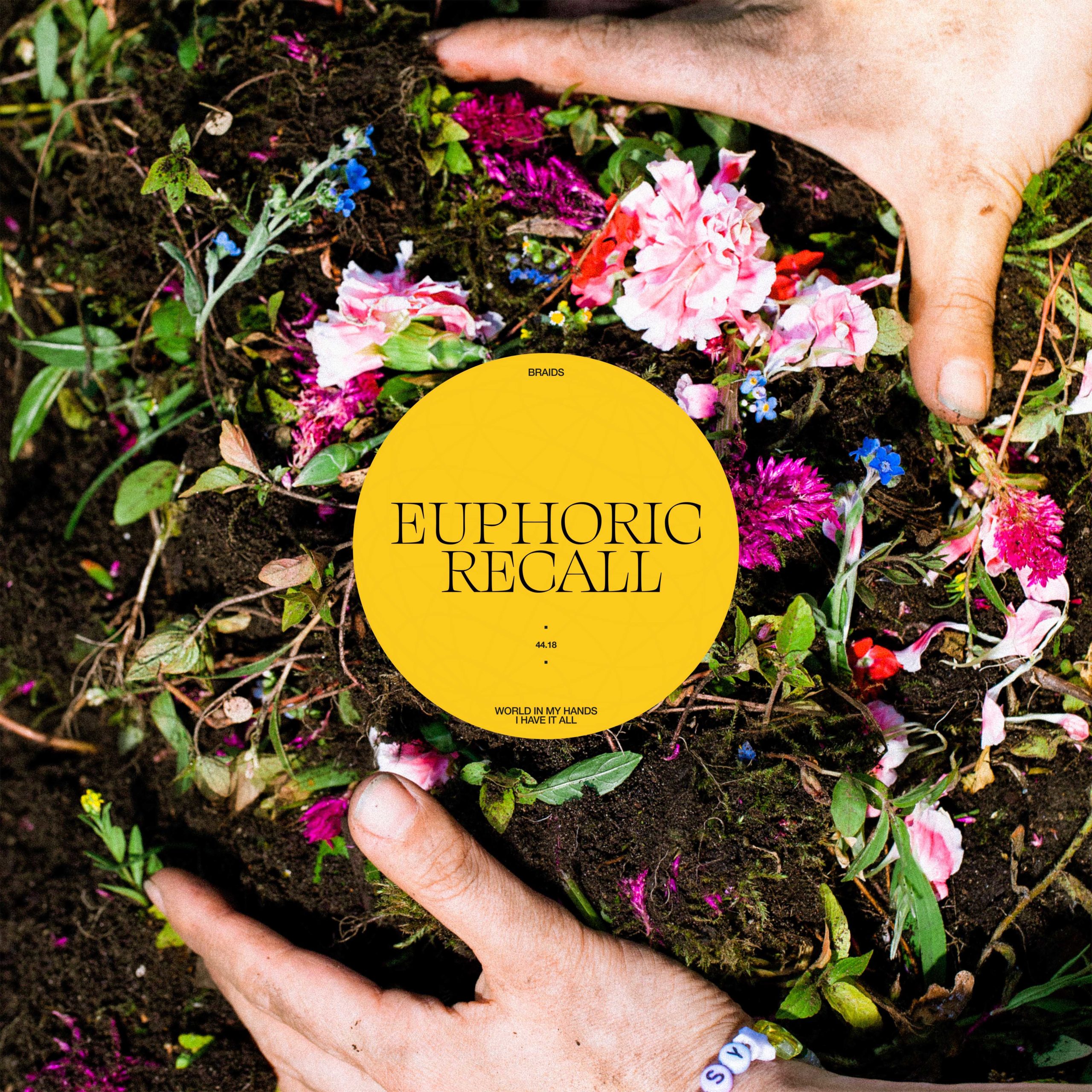 Montreal trio Braids – Taylor Smith, Raphaelle Standell-Preston, Austin Tufts – reinvent themselves artistically on each record. These Canadian musicians evolve intuitively, tapping into heartfelt emotions with an eye for a job well done, while being willing to let go and trust each other to fully immerse themselves in the time-space of a full-length album. This dedication to exploring their art has led to one of the most daring and fluid discographies in contemporary experimental pop of the last decade. The band sees its history as a series of actions and reactions, or a pendulum swinging between a precise process and vast creative freedom. Included on the Polaris Prize shortlist, their debut album, Native Speaker (2011), possessed the purity of childhood friends expressing themselves musically for the first time. Flourish // Perish (2013) was more reflective, embracing electronic sounds to achieve a certain perfection. Deep In The Iris (2015), also included on the Polaris Prize shortlist, as well as winning the JUNO Award for Alternative Album of the Year, returned to a warmer hybrid sound, softening the parameters. In 2020, after their longest hiatus to date, Braids re-emerged with their most ambitious work yet, Shadow Offering, a powerful and immediate record designed to be played live. Fans believe that the instinctive fusion occurring on stage, that "dynamic, exciting" energy (The New York Times), is the secret weapon of the band, which has played more than 500 shows around the world and toured with artists such as Future Islands, Purity Ring, and Toro y Moi. So when Shadow Offering was released into a confined world, the trio sought to embody that joy and playful spontaneity in the studio. The musicians came together to create something more free and refreshing, letting themselves be carried away by joyful ideas as they played them. Braids left strategic considerations behind and found themselves delivering their love record. Love in all its forms: the feverish beginnings, the explosions of desire, the inevitable awkwardness… Euphoric Recall, a supernova manifesting itself in a collection of symphonic, daring and contemporary pop songs.
The complexity of love and healing is not a new subject for Braids, but the angle with which the band approaches it is unprecedented. "The way you treat your heart has a big impact on what happens next," says Standell-Preston, who was enjoying a new, tender, happy love when she and her bandmates began the recording sessions. "I think when you start from a place of comfort where you feel loved and are willing to love, you can get into some very interesting areas." As a writer, she tapped generously into this emotional state, often writing on the spot, in just a few takes. The lyrics were vivid, exhilarating and evocative, thanks to a complete clarity about herself and a willingness to reflect the present moment. Smith and Tufts inherently understood this epiphany. The songs emerged with brighter, more relaxed rhythms and textures, as the musicians attempted to recreate the feeling they had missed in the absence of live performances. Halfway through the process, Smith realized something he didn't want to interrupt; he pinned a note on his board, upside down and out of sight, that read, "LOVE DISC."
Composed, recorded, self-produced and mixed at the band's Montreal studio, Studio Toute Garnie, Euphoric Recall's music is both patient and urgent, lush while maintaining its clear and direct feel. Elements come and go within a rich universe without ever being overloaded. Tufts had a honed ear after making records for Devon Welsh, Tess Roby and others, and he knew instinctively what the songs demanded of his drumming, whether it was subtle accompaniment or cathartic jazz bursts. Smith was returning from the depths of his solo experimentation and studio work, and the meticulous multi-instrumentalist and sound designer was eager to go for it and have fun. In addition to the thematic sensuality of the album, Standell-Preston was buoyed by the danceable nature of his side project, Blue Hawaii, which contributed to the trio's desire for their new material to have a more visceral groove. They also wanted a presence to guide them, embodied in string arrangements. They composed these themselves, in collaboration with Edwin De Goeij (who also plays piano on several pieces), who helped them write the scores that were given to an ensemble of cello, viola and violins. The classically trained musicians were very stimulated by the freedom allowed by the avant-garde structures; their ornamentation envelops the album "like a blanket or little hands holding the songs," says Standell-Preston.
The strings first appear on the second half of the nine-minute opener, "Supernova," where the old Braids give way to the new Braids. The lyrics scatter through the loose associations of Standell-Preston, whose tendency to work in jolts, burning brightly, earned her the stellar nickname that became the title of the piece. She collages incoming text messages with a broad political concern, until the song becomes much lighter. "I am a Supernova, Nova, known to none but myself and my lover," she sings as the strings rise, the piano flickers, the guitar zigzags and the drums calmly beat out the rhythm. Her gaze turns away from the incandescent chaos of existence, focusing instead on the excitement of a budding romance, moving from the external to the internal.
"Apple" is among the most joyous moments in Braids' entire discography, a celebration of new possibilities filling the eyes of a lover, who is aware of past grief and trauma, but whose heart is open to anything. "I've never wanted to give someone the most beautiful piano," sings Standell-Preston, whose sentiment is repeated ("Spend all my money on you") with increasing emphasis, reflecting the bright instrumentation. Tufts' percussion marches merrily along, evoking the early Animal Collective. Smith's synths follow a sequence of arpeggios he was saving for the good demo, aggressively counterbalancing the softer sounds to create a resplendent shoegaze effect. "We didn't have to put a lot of effort into this one; we could just dive in and get carried away," Smith says.
The confident and piercing 'Evolution' is a punchy pop song, which serves as a mooring for the abundant album. Standell-Preston delivers a crystalline, casual melody over an equally crisp beat, punctuated by explosions of toms and sparkling synths. She links patience to evolution: "Evolution itself is an act of patience. Our pursuit of our individuality, including all its emotional nuances, is tinged by a certain amount of patience on our part, on the part of those we love and on the part of those who love us." An ease, luminosity and indescribable magic characterise this uncompromising bombast from Braids.
"Left/Right" opens with a strong sonic reaction from Standell-Preston after she hears something for the first time in the studio, one of the many humorous touches that give the album a pleasingly carefree feel. Then we are dazzled by her poetry, as she pays homage to Montreal and the mistakes we make in our twenties. Smith's piano accompaniment is hypnotic, as the orchestral keys become more and more prominent; the piece ends with an eruption of frenetic sounds.
This abrupt ending sets the table for 'Millennia', a fusion of celestial electronica and down-to-earth emotion, where Standell-Preston's vocal performance is raw and over-the-top. Walls of synths and strings meet drum machine claps, thunderous toms and snare rolls; it's an effective transition between the two sides of the record. Slowly unfolding with ambient hums and acoustic riffs, 'Lucky Star' exudes an intimate melancholy. "I miss you I miss I miss you / I miss you all the time even with you", sings Standell-Preston in what sounds like a slow-motion punk tune.
Many small artistic deaths and rebirths led Braids to Euphoric Recall, and its final 13 minutes are the ultimate synthesis, through the patient pop poetry of 'Retriever' and the ecstatic textures of the title track. Including the very first duet between Standell-Preston and Tufts, there are various passages from the previous songs, and the string ensemble also takes the opportunity to improvise and replay their favourite melodies. An ingenious concept, in the spirit of Pink Floyd – an unexpected but appropriate reference for this strange and enigmatic music. The progression concludes with a sustained chord of synths, as one is reminded of all the love felt in a euphoric way, true to the title.