Beak>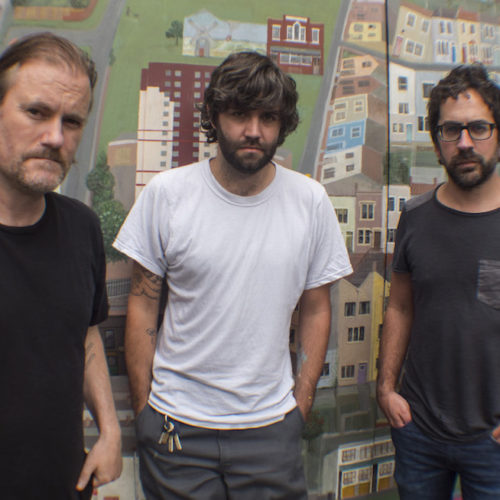 >>>
—
Out September 21st 2018
—
Invada Records
The album will be released on September 21st on Invada Records/Temporary Residence. Written over the last year and, for the most part, written and recorded live in the Invada studios, the band continue to forge their own path through their own genre of oddness.
">>> definitely sounds like a step forward. The production and feel of the first two albums was like listening through frosted glass; a band playing behind a curtain. Now we are hearing Beak> in sharp focus, but without forfeiting what the band see as its 'wrongness'. This could be the result of having played bigger stages and festivals – something that was never part of the plan – or perhaps it is just a reaction to the infinite cut & paste fuzz pedal kraut bands on the planet." – Redg Weeks, Invada Label Manager
Beak> are Billy Fuller, Geoff Barrow and Will Young.
Following on from 2012's '>>', this is the first studio album with new member Will Young (Moon Gangs) who was introduced to Geoff & Billy by Ben Power (Blanck Mass, Fuck Buttons) in 2016.
Bassist Billy Fuller has been Robert Plant's bassist since 2003 and is currently on tour with Robert Plant alongside his touring with Beak>. Billy also provided all the bass for Baxter Dury's latest album, 'Prince Of Tears'.
In recent times Geoff Barrow has written and recorded the scores for 'Annihilation', 'Black Mirror', 'Free Fire' & 'Ex-Machina' as well as some production work for Arcade Fire on 'Everything Now'.
Beak> were formed in January 2009 shortly after meeting at the Invada Christmas Party. The first song on their debut album was the first thing they ever played together in the studio, recorded there and then. And they've pretty much recorded like that ever since.
In-between studio records the band have provided the soundtrack for 2016's cult-classic 'Couple In Hole' as well as the singles, 'Sex Music' and the Christmas charity single for The National Elf, '(Merry Xmas) Face The Future' (both in 2017).
Beak recently broke into a live version of 'Sultans Of Swing' in a festival in Portugal  which garnered more applause than they have received at any other time