The Saxophones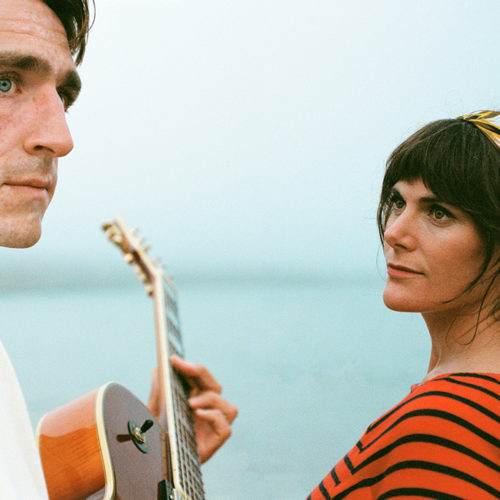 Eternity Bay
—
Out March 6th 2020
—
Full Time Hobby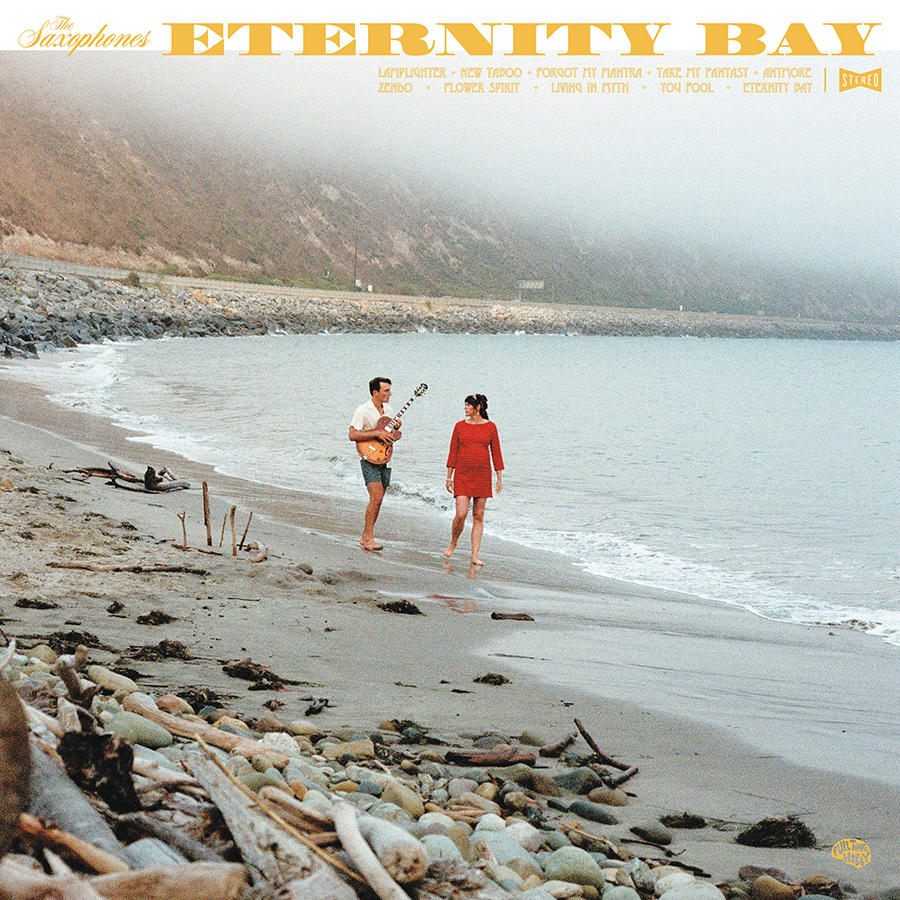 'It's so easy to stay where we are; it's a miracle anything ever changes.' Words you might not expect from somebody who has recently welcomed not just a second album but a second child into their world. Then again, change and movement come quite naturally to The Saxophones: this is a band who wrote their first album on board a boat, and who have called their second album Eternity Bay, fusing physical place with a spiritual sense of time.
The Saxophones' band name, however, started out as a half-joke for the song-writing project of Alexi Erenkov, then a disillusioned jazz student who'd recently ditched the instrument. Jazz didn't offer the room for self-expression that he sought. To song-writing he turned, its straightforward, limber form a liberation from the complex musical arrangements of his university studies.
The solo project became a band when Alexi's wife Alison joined the ranks on percussion. Their debut album, Songs of the Saxophones, pitched up just before the birth of their first son in 2018. Written aboard the boat they lived on together, amid the incessant rain of a northern Californian winter, the record established The Saxophones' style. Drawing from fifties exotica, west coast jazz, and seventies Italian lyricism, drama seeps into their deceptively simple sound, transforming dreamy surf pop into thoughtfully textured pieces, with a spaciousness at their core.
But where Songs of the Saxophones interrogates the nooks of interpersonal relationships, Eternity Bay's gaze is wider, as hinted by the album's title. 'My music has always grappled with mortality and the meaning of existence,' says Alexi, 'but the birth of our first son and the imminent arrival of our second has greatly heightened my sensitivity to these themes.'
Eternity Bay began to take shape just after the arrival of their first son, who shook up Alexi's writing routine far more than choppy boat waters ever did. But Alexi soon noticed that the forced fragmentation of his hours, writing under inky late-night skies and through the liminal glimmer of dawn, brought to the surface new qualities in his songs. He began to dwell on 'the human appetite for novelty, for throwing out all that came before, whether good or bad. Always starting over. Maybe this time I'll write the song that finishes all songs.'
Perhaps it was working during these hours of transition that drew Alexi to musical influences that carry the listener to other places and times. 'While this record was influenced by a broad range of music,' Alexi explains, 'the through line seems to be conveying a strong mood or sense of place. I love music that transports listeners to another space, whether it's Jonathan Richman making you feel like you're walking the streets of Boston in "I Love Hot Nights" or Arthur Lyman transporting you to a Hawaiian hotel lobby in the 50s.'
Recorded and produced by Cameron Spies and mixed by Noah Georgeson, the analog 16-track-tape recording method complemented the band's preferred minimalism. Noah's meticulous, dense layering both crystallised The Saxophones' sound and found new energy within it, without losing the expansive feel they'd honed on previous records. Not so much everything but the kitchen sink as nothing but the kitchen sink, you could say, except Eternity Bay is more of a spiritual grapple than kitchen sink realism. Granted, its opening settings are ordinary enough: a trailer park motel and its neighboring dive bar, The Lamplighter. But no sooner have you finished your fireball at the bar do you find yourself contemplating the full range of human experience: parenthood, work, faith, dreams, uncertainty, fear.
Musically, too, Eternity Bay appears relatively uncomplicated, but the influence of jazz is never far away, its intricacies lending the tracks a distinctive gravity. The result is a carefully planted landscape of woodwind, guitar, and vocals. Alexi's voice dwells on the threshold of fragility, a tantalizing brink that defines much of the record's themes: the brink between the bloom and wither of life, hope and futility, the everyday rat-race and floating adrift, comfort and change. But despite a melancholy that lingers from their debut album, Alexi points out that 'there's a buoyancy to this record.' He's not wrong. Despite or perhaps because of their existential scale, these are songs you can sway to, and connect with.
The Saxophones have doubled in size as a band with the recent birth of Alexi and Alison's second child. Looking at it this way, maybe change is miraculous after all. 'We're all alone here, but we're alone together,' says Alexi, and if Eternity Bay seeks a mantra, perhaps it is this. Facing up to the tougher aspects of being human, by crafting a sonic world that nourishes and energises, Eternity Bay hits upon a deeper bond with its listeners, forging a new connection with what it means to be alive.