TEKE::TEKE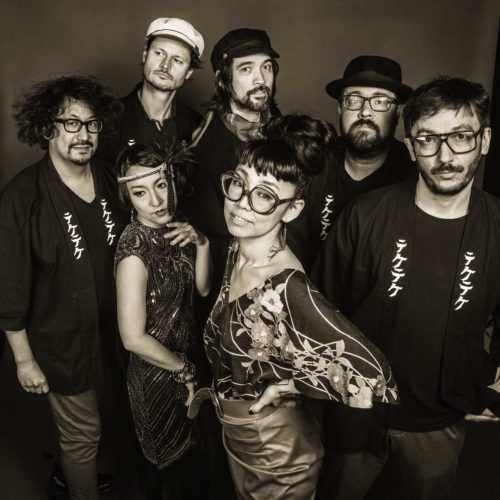 Shirushi
—
Out December 03rd 2021
—
Kill Rock Stars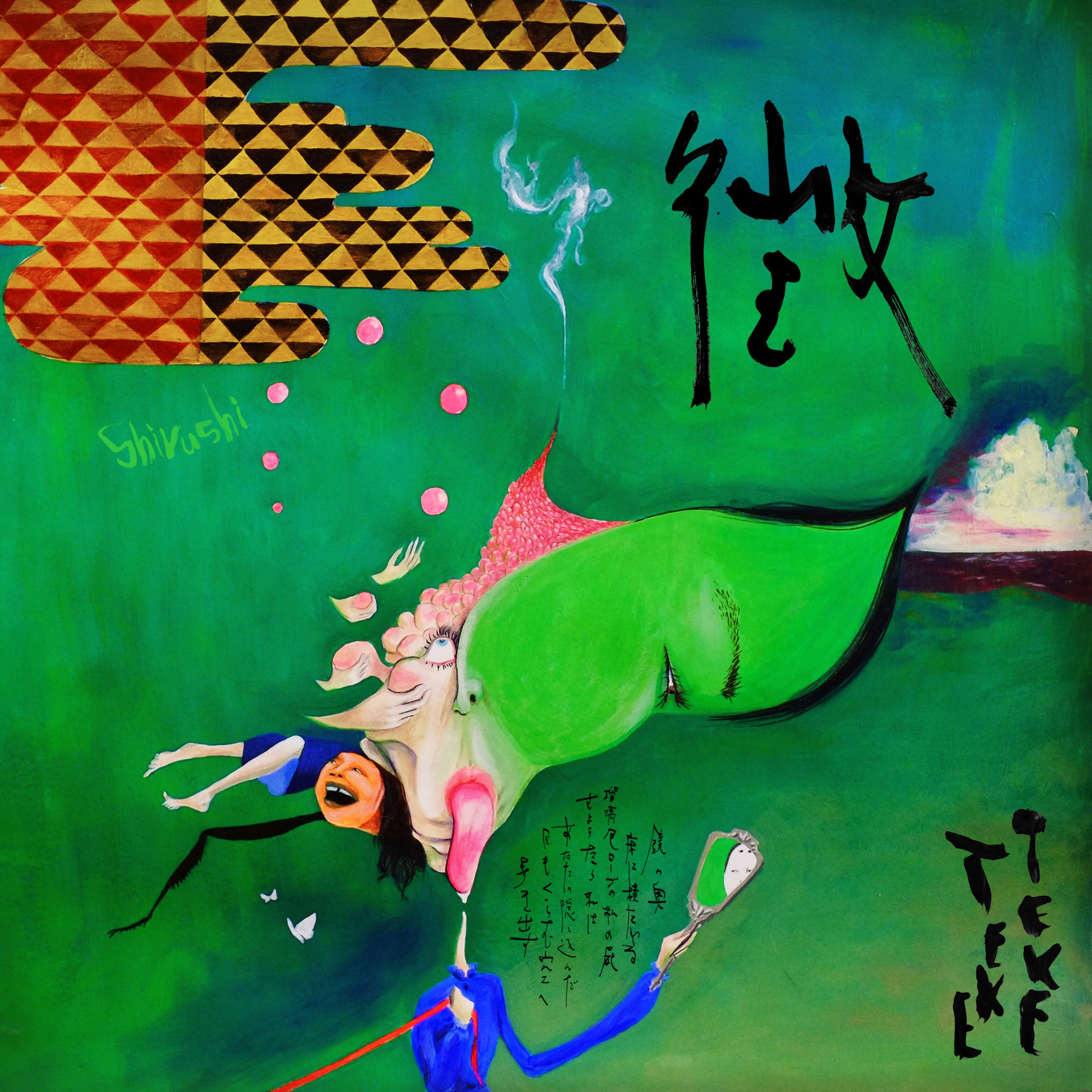 In the right hands, a single piece of art can live many lives. The centuries old practice of kintsugi mends broken pottery by fusing the pieces back together with seams of gold, silver, or platinum lacquer. Beautiful in its first incarnation, the piece finds itself broken apart, and then embraced and elevated anew. After taking inspiration from Japanese surf rock to Brazilian psychedelia to Bulgarian folk and tearing those compositions apart, Montreal-based TEKE::TEKE have built a beautiful new beginning out of destruction on debut album Shirushi (due May 7th via Kill Rock Stars).
Fittingly, TEKE::TEKE found its origin within the form of another project, as guitarist Serge Nakauchi Pelletier, drummer Ian Lettre, and horn player Etienne Lebel began jamming together while members of another artist's backing band. As they shared music and learned new tunes, they found themselves particularly drawn to the work of Japanese surf and garage rock legend Takeshi "Terry" Terauchi. "We started learning his songs and playing them during sound check, and decided we should start a band!" Nakauchi-Pelletier says. Those lush, woozy compositions, however, required more musicians, so they began collecting "We wound up with seven people–a weird mix of talent with a really wide range of influences," Nakauchi-Pelletier laughs.
The trio were joined by rhythm guitarist Hidetaka Yoneyama, bassist Mishka Stein, multi-instrumentalist Yuki Isami, and vocalist Maya Kuroki, and immediately set to immersing themselves in Terauchi's work and simultaneously building out their own expressive style. Their first performance came at a psychedelic music festival, acting as a Terauchi tribute act. After earning rave reviews and expanding from that concept, TEKE::TEKE began adding more and more of their own original material and style into the mix. "We weren't expecting the response we got, but meeting new people and feeling that energy pushed us forward," Yoneyama says.
The band spent the past two years bringing that swirling, ecstatic experience around the world, as well as taking time away from the stage to translate it into their debut album. The seven musicians holed up in a cabin in Canadian countryside to write, and followed that up with a stint in Rhode Island's notorious Machines with Magnets studio to ensure they could focus on the unique world of the music. "Having seven people in the room allowed us to open up and bring so many different ideas together," Nakauchi-Pelletier says. "I came in with written songs, but having something thought out doesn't really mean anything. You can just destroy it and put the pieces back together in a different way."
The result of that reconstructive project, Shirushi is a dazzling mosaic of styles and eras in which ripping guitar riffs and silvery flute trills fly in formation. The record incorporates traditional instruments, draws influence from '70s soundtracks and the sentimental balladry of Japanese enka, and yet sounds as if it comes from some distant future. Lead single "Kala Kala" perfectly encapsulates that refusal to be contained, building from an expansive ambience to an elephantine instrumental hook, Kuroki's voice darting over the top. "The Japanese language allows for visual, colorful poetry, and the lyrics tell a story with a lot of different colors, strong vibes, and emotional themes," vocalist Maya Kuroki explains. In that way, each individual track plays out like a lost classic soundtrack with its own genre and storyline, even for those who may not have the benefit of the literal translation of Kuroki's lyrics.
After first making a name for themselves on the stage, TEKE::TEKE captured that energy on tracks like the intensely layered "Barbara", which was recorded in a single take. As the horns and bass march toward the heart of the track's mountainous landscape, Isami's flute and Kuroki's growl soar overhead. Meanwhile, the thrumming "Yoru Ni" finds the vocalist opting for breathy whispers in the midst of a romantic spiritual tale about letting go of a delusional quest, and "Dobugawa" tells of a love story upended by revelations of gender identity that fades into dizzying violin stabs and off-key piano drizzle.
Kuroki's voice may not hit a brighter high than the evocative "Kaminari", a track that demands the stage as fervently as the punky fun of album highlights like "Barbara" and "Meikyu"–though vastly different. In between slivers of shinobue and sighing trombone, her ache and arc echoes Bjork in its ability to feel robust one second and crack with emotion the next. A trained actor and visual artist, Kuroki's place at the front of the stage for TEKE::TEKE masterfully enlarges their already dramatic arrangements.
From the grand string arrangement closing out the album on "Tekagami", it's clear that Shirushi is only the beginning of a sprawling voyage. "This is our invitation for the audience to join our little world," Yoneyama says. "The album title in this context means the sign of big changes, big things to come." And much like kintsugi, that world continuously comes from a bold set of adventurers willing to tear apart the past and find out what it looks like once they put it back together in their own way. "There's always something hopeful that comes after destruction," Nakauchi-Pelletier adds. "Next comes rebirth, and we get to learn again."