Baba Ali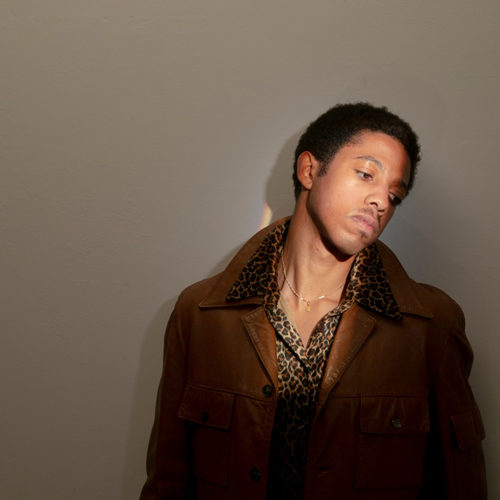 Memory Device
—
Out August 27th 2021
—
Memphis Industries
Though most debuts are the culmination of a lifetime of influences and experiences, few artists succeed in mapping their musical journey quite as vividly as Baba Ali has on Memory Device. Tracing his Nigerian heritage, an adolescence absorbing No Wave and the hip hop on NYC's Hot 97, time immersed in the techno scene in Berlin, and the experimental punk spirit of his current base in London, Memory Device is an enthralling introduction to a musician who resolutely defies pigeonholing.
Written during lockdown, and recorded with Al Doyle (LCD Soundsystem, Hot Chip) in East London, Memory Device is both a dizzyingly inventive exploration of Baba's complex musical DNA, and a thought-provoking treatise on the collective angst of modern existence; a dance record dealing in small 'p' politics that, spiritually, has been three decades in the making.
Born and raised in Fort Lee – the New Jersey borough connected to upper Manhattan by the George Washington Bridge – the singer/songwriter born Babatunde Teemituoyo Doherty spent much of his childhood immersed in music. Related to Fela Kuti via marriage on his father's side of the family, Baba recalls regularly accompanying his father into Manhattan to see Femi Kuti perform, while he credits his mother for the appreciation he developed for Sade, Prince, Michael Jackson, and Chic. When he eventually began developing his own musical tastes, he gravitated towards hip-hop – particularly conscious rappers like 2Pac, Nas, Common, and A Tribe Called Quest – as well as neo-soul trailblazers like D'Angelo and Erykah Badu. It was the discovery of J Dilla's seminal second album Donuts that would prove most influential on his own musical trajectory.
Having studied piano and saxophone from a young age, Baba acquired some cheap turntables and taught himself to mix – going on to DJ parties throughout high school – and started a collaborative project making beats for his school friend, the aspiring MC Jules Lafayette-Terry Randolph. Though the two initially bonded over rap, it was the eclectic nature of their shared influences that shaped their output under the pseudonym Voices Of Black.
"Growing up, everything was so rigid," the now-31-year-old songwriter recalls of the era. "It was like, you listen to hip hop, and those white kids listen to skater music, and the Asian kids listen to techno. Everyone was in this box. And we were like, well, we're two black kids but we listen to Radiohead and Joy Division and all this different music, and we don't wanna feel like we're in this box anymore. We want to make music that is expansive and goes everywhere and touches on everything."
In this spirit, they coined the phrase "Yarchism", a philosophy promoting an instinct-led approach to creativity, so as to pursue the purest possible expression of your creative vision, unaffected by socially-constructed norms. Baba still subscribes to this outlook today, describing himself as being hardwired to "resist any type of expectation of what I'm supposed to be," as well as being "almost antagonistic" during his powerful live performances, which draw heavily on his background in Visual Arts.
It was while studying Music/Multimedia and Electronic Music Experiments at Brown University, that Baba's experiments with Voices of Black reached the ears of classmate Nicolas Jaar, leading to their signing with Brooklyn-based boutique label Wolf + Lamb. Following an acclaimed EP, a US tour with Gold Panda and a spell DJing in Berlin, the duo called time on the project in 2013, with Baba returning to Harlem to work in art-handling. In 2017, he moved to London to pursue music, emboldened by his experiences visiting family there as a child.
"London had a huge effect on me because it expanded my understanding of what Blackness could be," he recalls. "Seeing my cousins in the UK in a whole different context – listening to grime, and dressing and speaking in a certain type of way – was so radically different to anything I'd ever experienced before, but [it was] so compelling… As a result, I'd always had this idea of the music scene in the UK being really forward-thinking and open to experimentation."
It was here that he began writing new music as a solo artist, with his debut EP Nomad released in 2017. Soon after he met British guitarist Nik Balchin while they were working together at a bar in Whitechapel. Nik brought with him an entirely new set of references, ranging from LCD Soundsystem and the Pixies to Suicide and Iggy Pop. The new collaboration resulted in the February 2020 release, This House, an eclectic four-track collection fusing funk, blues and soul, and featuring production from Jamie Hince of The Kills. In July the same year the duo released an unofficial mixtape, Rethinking Sensual Pleasure, which they wrote while locked down together at Baba's parents' house in New Jersey, having been temporarily stranded in the US following their New York shows.
Today Baba describes this process of producing a longer body of work as being akin to "ripping a Band-Aid off," giving them the confidence to begin writing their debut. Work on Memory Device began shortly afterwards, culminating in the pair recording the album between November 2020 and February 2021 with Al Doyle, who was chosen for his vast experience operating at the intersection between dance and rock music.
Inspired by deep dives into the catalogues of Prince and James White and the Blacks, as well as Yves Tumor's acclaimed 2020 LP Heaven To A Tortured Mind, the result is a brilliantly warped indie-dance record that wears its (impeccable) influences on its sleeve, without once feeling derivative or retro-leaning. From the taut punk-funk of 'Dragging On' and 'Black Wagon's four-to-the-floor strut, to the ambitious sprawl of 'The Well' – which gradually layers glittering synths on top of blues-inspired guitar – highlights come thick and fast.
Cohesion comes not just in the duo's darkly euphoric arrangements, but in Baba's lyrical focus which drills into the drudgery of 21st century life. On "Draggin' On' he reels off a laundry list of worries, while 'Thought Leader' critiques corporate corruption and 'Waiting Room' taps into the barely perceptible sense of dread that underpins our day-to-day experiences. Though undoubtedly dystopian in its focus at times, there's a palpable sense of catharsis throughout, an atmosphere that Baba acknowledges as being integral to the project.
"It's not about trying to weigh people down by how hard life can be, or how fucked up the world is sometimes. It's about having a communal moment where we can all acknowledge and process that together. It's almost therapeutic."
Just as important is Baba's ability to carve room for authentic expression in an industry that still lazily categorises artists of colour according to their ethnicity rather than their actual musical output.
"It's all about trying to continue to create space for black alternative culture," he explains. "That's why Yves Tumor doing what he did or Blood Orange doing what he does is such a triumph: they've figured out a way to make music and define themselves on their own terms… I would love to have the ability to inspire younger people in the same way that,as a kid, I was looking to these people who were breaking boundaries; people who were showing me that it's possible, and that there are ways to do it."
There's no question that Baba is leading by example with Memory Device.