Wolf Alice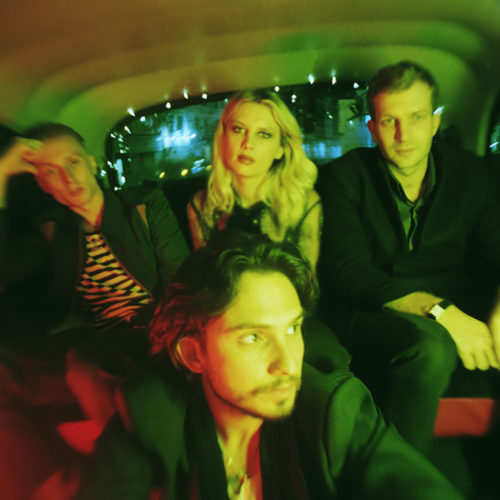 Blue Weekend
—
Out June 11th 2021
—
Dirty Hit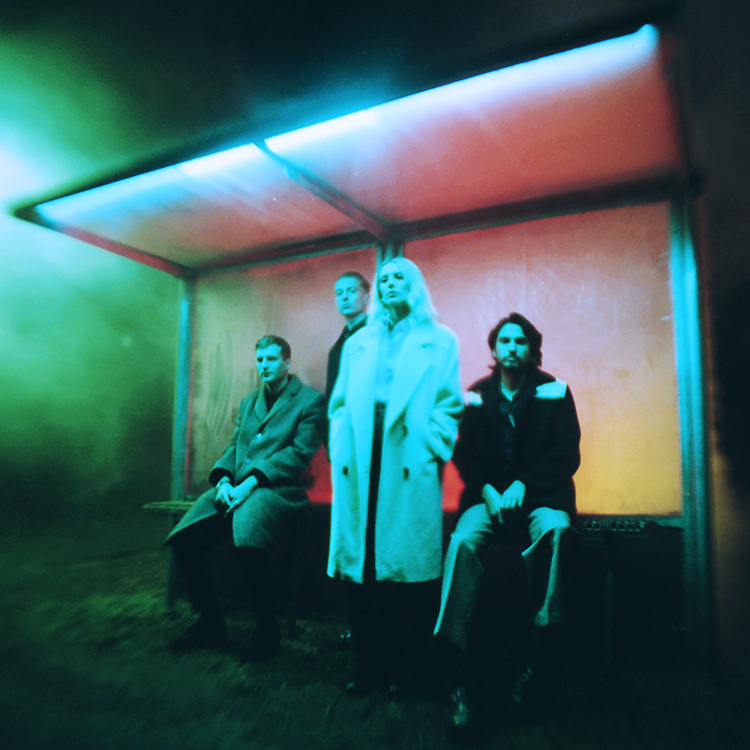 It is now more than a decade since Wolf Alice began; first as a duo made up of Rowsell and guitarist Joff Oddie, then later expanding to a four-piece, with drummer Joel Amey and bassist Theo Ellis. Their music was magnetic: masters of the fiery chorus, the grunge riff, the whisper and the rebel-yell. Meanwhile Rowsell's lyrics told of youth and young womanhood, of nights out, best friends, bus rides home; of desire, and rage, freedom, and joy.
A run of EPs was followed, in 2015, by their debut album My Love Is Cool, which reached number two in the UK album charts, and received a Grammy nomination for the track Moaning Lisa Smile. Its successor, Visions of a Life, came two years later, and won the 2018 Mercury Prize. There have been global tours, support slots for Foo Fighters, Queens of the Stone Age, and Liam Gallagher, and the band were the subject of a film by revered director Michael Winterbottom.
Writing a follow-up to Visions of a Life was daunting. The success of that album, coupled with the many months spent on tour — the slog of shows and flights and hotels and long bus journeys across many miles, had taken a creative toll. "When we stopped touring," recalls Rowsell, "I thought 'Fuck, I haven't written any songs…'"
The band decamped to an Air B'n'B in Somerset, and it was here that they reconfigured who they were together, far away from festival stages, tour buses, awards shows, and fans. They cemented their friendship, had a somewhat ramshackle night out, and set to work on some fledgling demos in a converted church. "We didn't have a filter on any ideas," says Ellis. "Any idea was a good idea at that point. And we did everything really haphazardly, but it was just about getting it working again, having a place to convene, getting ourselves into that atmosphere."
Rowsell also discovered she had the beginnings of more songs than she had thought. "I didn't realise I had written them," she explains. "Just because I didn't know what was good anymore. It had been so long since we had written new songs together that I was afraid to show anyone, and for them to say 'These suck! You can't write songs anymore!'
In fact during their time away from the studio Rowsell had evolved considerably as a songwriter, and the band were struck by the new maturity to her lyrics. "I think these are the best songs Ellie's ever written," says Oddie. She has acquired that rare songwriting gift — the ability to tread the fine line between consummate storyteller and confessional lyricist.
And, too, she has realised that there can be both strength and solace in vulnerability. "This album is for other people." she says. Its songs were written with the hope that they
"might make people feel listened to if they are going through something." Blue Weekend's tales of love and breakups and close bonds and disillusionment, are largely the product of Rowsell's realisation of the role of music in our lives, of the importance of the songs she writes.
"Sometimes you hear a song and it makes you feel better, or you hear a song and it makes you feel seen," she explains. "I remember feeling blue about something, and thinking 'I wonder what songs I can listen to that will be about what I'm feeling right now'. It was almost as if I was desperate to feel better about something, and I would go down any path to feel not alone in something, or to understand it more. And I've never really done that before intentionally, I'd never really sought it out."
While these songs are categorically "not a diary entry" they are nonetheless rooted in Rowsell's own experiences. "I'm really nervous about this album because it does sound like you can tell what I've gone through," she says. "But I had to keep telling myself it was worth it. And only I can tell you what is real and what is not, and I don't have to tell anyone."
A persistent theme of the new album is love – the discovery of it, the loss of it, the strength of it, for partners, friends, ourselves. "On My Love Is Cool I wanted to make sure there were no love songs — I remember consciously not wanting there to be any because I thought that would be cooler," she says. "I felt writing songs about relationships was what was expected of me. But now I don't care, because I want to hear them! When I go to a bookshop, or when I go on Netflix, I type in 'relationships'. Because that's what I'm interested in."
The most challenging of the new songs was Feeling Myself. "I see quite a lot of female musicians writing about self-love and being more open about their experiences," Rowsell says. "But at the time I was writing it I felt 'Uh, is this going to be embarrassing?' But I knew I had to not be embarrassed to make it good." There is perhaps no greater example of the progression in Rowsell's work. " I think it's just about getting older and feeling I don't care as much," she says. "If I want to progress as a human being I have to not be so afraid of things, of what I want to say." She drew inspiration from the boldness of many of her female peers for whom "it paid off to not hold back." "I was inspired by them being open about things that people don't necessarily want to hear about," she explains. "I don't know if it's a female thing, but self-love or being sexual."
She had perhaps acquired some of this defiance through the reaction to Visions' Yuk Foo, when she found that the song's declaration of "I wanna fuck all the people I meet" was met with horror by some. "As if it was gross that I should be someone who has sex, or is not afraid to talk about it," she says. "And then I felt annoyed that there are things that people don't want me to be." It was this feeling, she says, that inspired the new track Smile.
Musically, Blue Weekend finds a new simplicity to its songs. "If you were to strip these songs back, we were going more on feeling than on musical merit," Rowsell says. "It felt like 'If we don't capture that feeling of soul then we've not got it' I think we felt that when you're really focusing on feeling, or subject matter, or lyrics, you don't want to get distracted by something too clever."
This too, she feels is a product of their new maturity as a band. "I remember St. Vincent saying something about when you get older you realise that you've been trying so long to not write the songs that are actually just your favourite songs. When you're younger you think 'I need to prove to people that I know all the chords and my structures are whacky! And then when you're older you think 'I just want to write a song that I would have at my funeral'."
Previously, Wolf Alice have incorporated many musical styles into their music — from shoegaze to grunge, synth-pop, punk and beyond. "I still don't know what the 'Wolf Alice sound' is from this record," says Ellis. "But as a body of songs I think it has more of a DNA than we have had before." They were aided in this evolution by producer Markus Dravs (Arcade Fire, Bjork, Mumford & Sons). His role assisted them in "having to justify why we wanted to do something, to think: 'Well what's that going to add?'" Oddie explains. "And it's not something that we've ever really been confronted with in the studio before. It's been a case of: Wolf Alice throw shit at the wall constantly for three months and then out pops something. So I think this was a different way of working. The maturity of the record might've been encouraged by the fact that Markus was making us question each of the individual parts of a song. So by questioning its intention I think it makes things more refined."
But these are still recognisably Wolf Alice songs. On some tracks, such as Delicious Things, they took the approach of 'throw everything at it and then bring it back' Rowsell adds. So I guess we got to a point where we could meet in the middle, between his way and our way, and use a song to find that balance really."
In many ways it proved a process of refinement and reinforcement of the band's musical identity. "We have a very specific unspoken language between each other, because we've spent so much time together," says Ellis. "And I think we had to realise that not everyone instinctively understands what we're trying to say, and we have to explain our ideas far better than we do — which is usually with adjective references of colours and sounds.
The band were also able to draw on other previously under-used strengths — for Amey, who has an increasing interest in production, this meant exploring programming, "fiddling around on Ableton and making synth sounds." For Oddie, it meant looking at the possibilities of acoustic instrumentation. "On this record there are a lot more sounds that you would qualify as being a more classic guitar sound," he says. "But I spent a lot of time working with acoustic instruments, trying to play them in different ways and layering them in different ways."
For a band that has spent ten years developing a reputation as a phenomenal live act, the current restrictions on touring are painful. Even two years on from their last show, "it hasn't dissipated, that feeling feeling that it's eight o'clock and I need to be on stage," says Ellis. In lieu of live performance, they have made a series of music videos to accompany each of the songs on the new album. They hope it will offer a way to connect with the fans they cannot yet see, to draw their audience close again, even in a time of great distance. "You just feel hungry for something like that," Oddie says. "For the sense of community that is implicit in those events. Because the level of connection that you have between the four of you on stage, doing something in front of thousands of people, is so profound. It's such a unique thing."
Rowsell, too, hopes that the new confidence Wolf Alice have found as songwriters will mean these songs will forge an even greater bond with their audiences. "One of the things that has moved me in my career is when I'm playing shows and I see a 60 year old man closing his eyes and singing along next to a 16 year old girl," she says. "We don't write specifically for one person. We just go based on what moves us, and hope that if it moves us, it moves someone else."