The Phoenix Foundation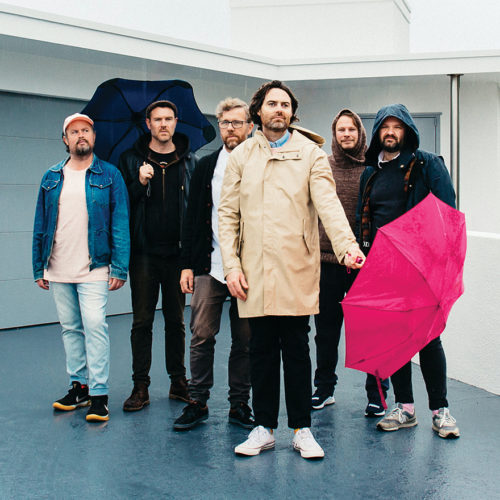 Friend Ship
—
Out October 16th 2020
—
Memphis Industries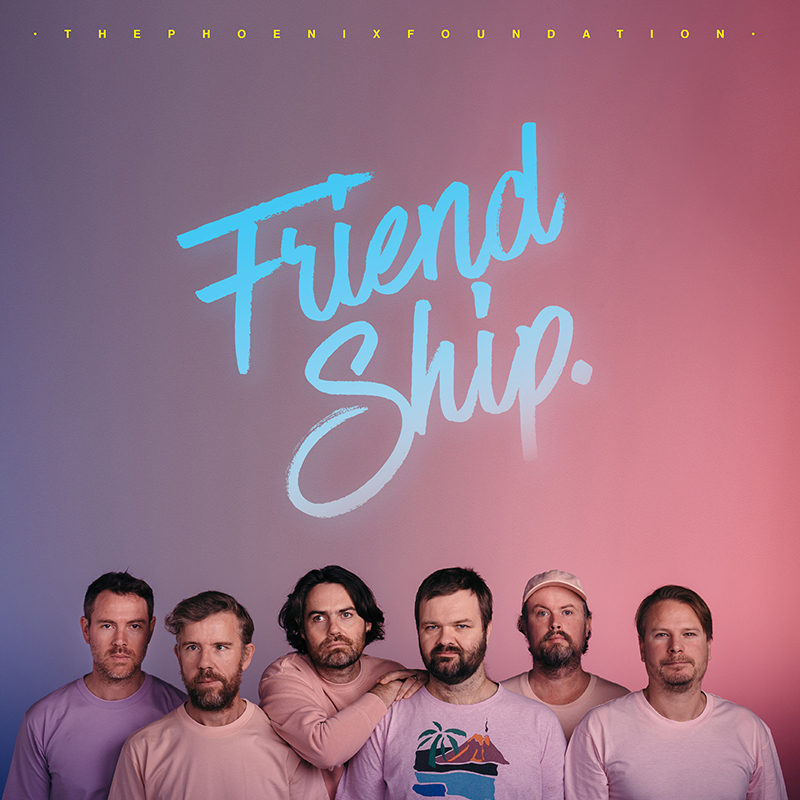 The Phoenix Foundation have lived many lives. From high school distortion addicts to indie folk trippers to masters of motorik dream pop. It's been five years since their last album, Give Up Your Dreams, but that downtime has been well spent. The New Zealand outfit have been writing, recording, touring with a Symphony Orchestra, creating the acclaimed soundtrack for Taika Waititi's Hunt For The Wilderpeople, building shrines to light, creating scores for VR, producing other bands and, that most lockdown-friendly activity, baking sourdough.
Slowly, when they could, the six old friends found time to work together in studios, garages, forests, and sheds to put together the concise ten song set of that is Friend Ship. "We took such a long break after GUYD that when we did decide to make a new record we all felt it needed to be in some esoteric sense different," says co-lead singer Samuel Flynn Scott. "To me that meant returning to something more focused. Honing in on the songs before we went deep into the arrangements and freaky sounds." And the results reflect this approach too. Whilst Friend Ship, as you would expect, weaves seamlessly between dreamy introspective pop, stretched out grooves and psychedelic rock, it also exists as a collection of masterfully crafted songs.
And much like the band is able to happily glide between numerous genres, they too have brought in a number of different styles and voices in the form of guest contributions. Nadia Reid, Hollie Fullbrook (Tiny Ruins), Dave Dobbyn, Anita Clark and the New Zealand Symphony Orchestra all feature. The role of collaboration is key to the record, not only because of the weight and character that each brings to their performance, but because the album is rooted in friendship. The album is of course named after it. "The title refers to friendships not being these passive social interactions but ever evolving living vessels which carry us through life," says Scott. "After the mosque attacks in Christchurch this was something I was thinking about a lot, that sense that in order to move forward as humans we actually need to actively support each other."
The role of relationships within the band became crucial too. "I started a band with my best friends, and it was this band," Lukasz sings over looping acoustic guitars and subtle harmonies on Former Glory, a track that delves into the past to explore his own immigrant experience. "We made the album in such fits and starts over such a long time but it became this weirdly beautiful thing where we were getting to catch up with each other as pals," says Scott. "That helped to keep the momentum going as a band."
However, whilst the album is a beautiful and often tender one, sometimes rooted in immersive and dreamy ambient soundscapes, it's also one that captures the strangeness of the modern world. "These themes of modern anxiety started to emerge in my songs," says Scott. "The album is sort of a post-apocalyptic love letter from the future to the present. Looking back into the past for that sense of human connection we have lost in our screen-based existence.
Much like many things in the world of Phoenix Foundation, the new record is nuanced, multi-faceted, distinct and idiosyncratic. And it's yet another album in their increasingly expansive cannon that exists on its own terms. "I don't quite know how we pulled this record off," says Scott. "But I love it. For songwriting I'd place it alongside Buffalo and Pegasus but it also sounds nothing like those albums. It's very much its own thing."