Polycool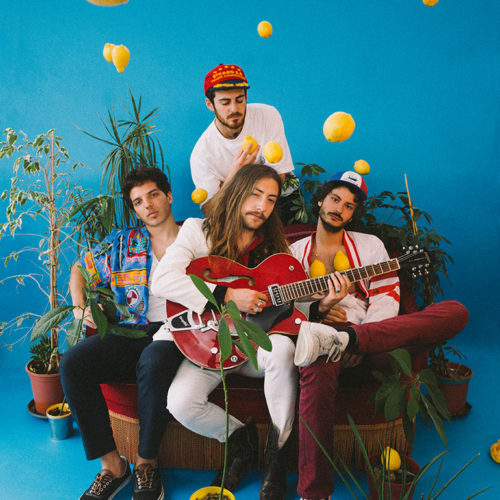 Lemon Lord
—
Out November 15th 2019
—
Bigwax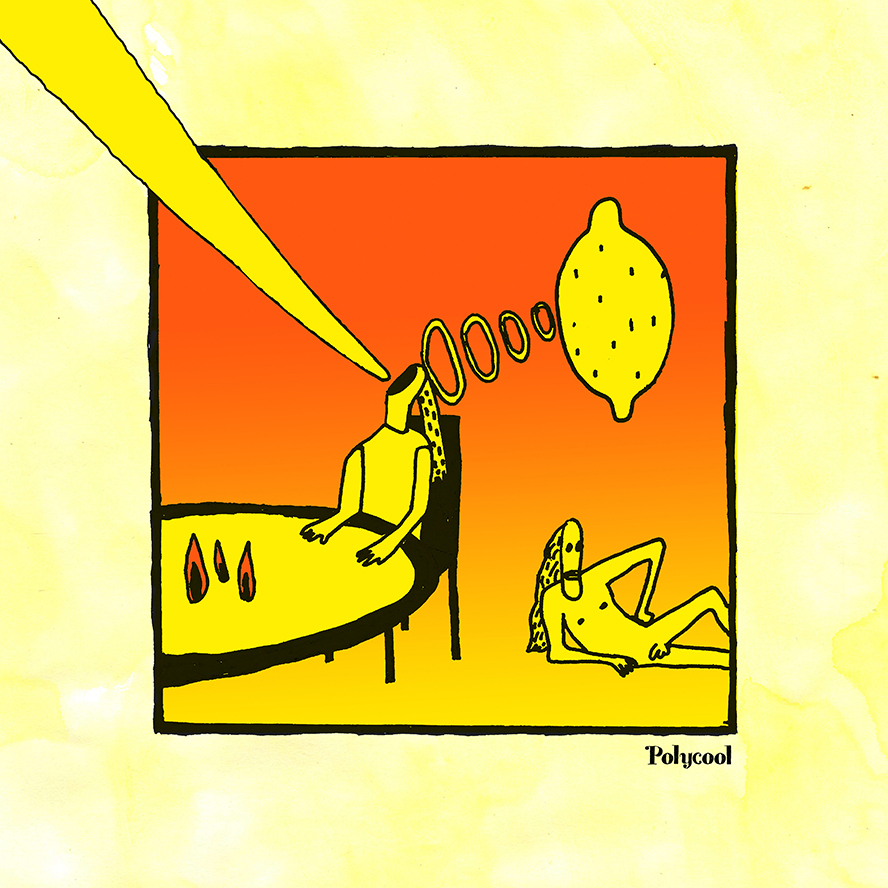 "I don't understand" – the keyboard player's mother.
For many years, the four childhood friends of Polycool, (who, in the past, operated under their former name Abraxas) have unintentionally enriched the definition of pop music in the Parisian scene. Their originality and influences know no limits, nor does their project: to compose an album about the life of a warthog? Yes. A vinyl dedicated to a bisexual trout? Of course. Invent the religion of the Lemon Lord and make it into an album with a comic strip? Good idea. Talk about diarrhea and the price of lemon live on a national french radio station ? Obviously.
Their many concerts in France (Pete The Monkey, Espace B, Pop-Up du Label, La Cigale, Le Petit Bain…) has left, at each passage, an indelible memory of pop trance, dotted with confetti thrown by a man barely dressed in a hood, on a sweaty and loving audience. In a few years, an aura of collective madness has been created around them.
Polycool is, above all, an independent and absurd project, a medium to explain the strange universe of the four musicians, which marks minds despite its great complexity. "We would rather please 10 people a lot than please everyone a little" – has they used to say. Their unpredictable ability to surprise is also reflected in their music clips, usually directed by Clément Métayer and Léo Schrepel, their great friends and video artists fetishes of the Parisian pop scene.
Their musical style, always enigmatic, is made up of various influences mixing Metronomy, Late of The Pier, Connan Mockasin and the whole universe of the netlabel Tasty Morsels. It is this curious mix that their new album Lemon Lord, an acidic cosmogony to come in autumn 2019, embraces. "We wanted to cross Dark Side of The Moon by the Pink Floyd with the cartoon Hercules" – has they simply summarize.
This concept album contains 13 tracks combining pop, experimental music and even US rap. It was made for more than 6 months with Alexis Fugain (leader of the French pop band Biche). This time, a certain wisdom and complexity in the composition – but also in the recording methods – make this album a singular and rare object.
But that's not all! Prolific, they also plan several side projects releases in 2019, including the website, a real copy of the band's madness, seems to reveal some nuggets.
The Parisian quartet has created a musical style in the service of their madness – between disco, pop, synth and psychedelic. Be prepared to be surprised.