Laure Briard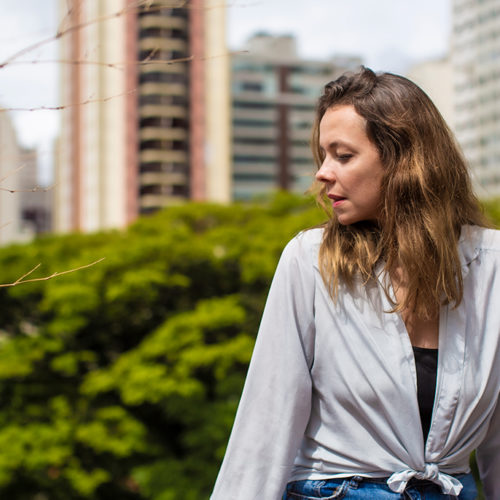 Eu Voo EP
—
Out Febuary 19 2021
—
Midnight Special Records
Two years after releasing Coração Louco, her first Portuguese-language EP recorded in Brazil, Laure Briard continues the adventure with the Boogarins and releases the EP Eu Voo February 19, 2021 via Midnight Special Records.
The singer-songwriter meets the Brazilian band in 2017 at the SXSW festival, resulting in a tour in Texas and Mexico, as well as the start of a great friendship. Five months after this determining meeting, Laure, already appreciative of Brazilian music, begins to write in Portuguese, and the idea of a collaboration soon becomes self-evident in spite of the distance between the two countries. She flies to Brazil for a tour consisting of eight concerts, to then return to record with the band some months later. Today, Laure introduces a new, ambitious EP in which she reunites one of the currently most-watched psych bands (notably at the Latin Grammy Awards) and her long-time associates Vincent Guyot (aka "Octopus") and Marius Duflot at the prestigious studio Dissenso, just as a tropical rain pours down on São Paulo.
For this new chapter, the singer-songwriter says that she wanted to push the collaborations to new limits: "I was lucky that Dino, the singer of the Boogarins, suggests songs to me each time. Here, he wrote Passaros and its sister Morena na Janela. My contributions were a mystic text about my favorite goddess Yemanja, goddess of the sea, which I sent to the artist Gabriela from the group My magical glowing Lens, and a melody, sent to Giovana Cidreira. These two respective songs, Super Trama and Respire were first written remotely and the studio end-result was magic. I still work with Octopus and we wrote Não me diz nada together. I composed Eu Voo alone, a title that we had already recorded on the first EP but didn't finish because of lack of time."
Like Coração Louco, Eu Voo is conceived of with Benke Ferraz, lead of the Boogarins, then recorded with the rest of the band last January. "There was a great team cohesion, everyone participated in the arrangements, they were created in the moment, no prior discussion needed."
True to the questions that live in her imagination, in these new songs, Laure explores the intensity of emotions, the themes of love, sadness, and voyage, magic and mystic. She presents a refined EP, inspired by the tropicalism of Gal Costa and the Novos Baianos groove.