James McVinnie & Tom Jenkinson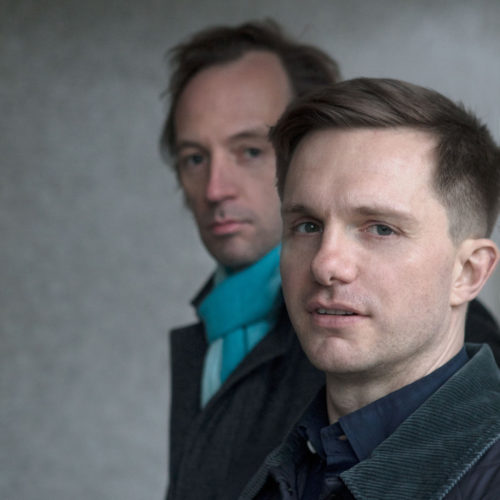 Voix Célestes
—
Out September 27th 2019
—
Warp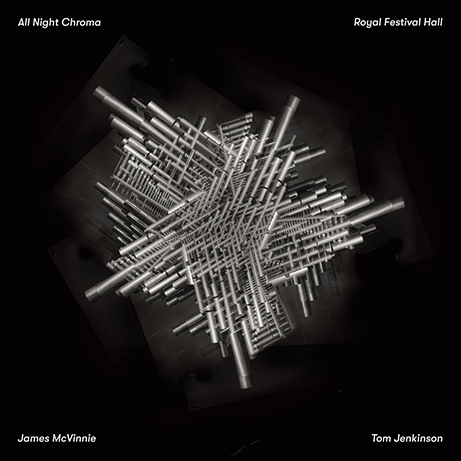 'All Night Chroma' is a collection of compositions for organ by Tom Jenkinson, performed by renowned organist James McVinnie. It features eight breathtaking performances recorded over one night in 2016 on the extraordinary and much-admired 1954 Harrison & Harrison organ at London's Royal Festival Hall. The compositions were commissioned by No-Nation with PRSF for Music and debuted as 'The Secret Life of Organs' in 2016 with a run of live dates in the UK supported by Arts Council England. The original pieces have since been revised to make up 'All Night Chroma'.
James McVinnie is widely considered to be one of the leading organists in the world today. He has collaborated with many leading figures in new music including Philip Glass, Angelique Kidjo, Martin Creed, Richard Reed Parry, Bryce Dessner, Hildur Guðnadóttir and artists across Warp's roster such as Oneohtrix Point Never and Darkstar, many of whom have written large scale works for him. He is a member of the Icelandic record label Bedroom Community. 'Cycles', his debut recording of music written for him by Nico Muhly, was released on this label in 2013 to widespread critical acclaim. An album of music by Philip Glass, 'The Grid', was released on Orange Mountain Music in 2018.
Tom Jenkinson first struck out as a composer in 2003, scoring pieces for the London Sinfonietta for the 'Warp Works and 20th century Masters' show which debuted at the Royal Festival Hall, London. In 2005, Tom scored a series of pieces for solo electric bass which later formed part of a collaboration with Evan Parker in 2007. A recording of these compositions performed at Cité de la Musique, Paris was released in 2009. In 2013, he collaborated with Charles Hazlewood to reimagine the Squarepusher album, 'Ufabulum' for orchestra. It has since toured extensively, for example at Fairfield Hall, London, with the Krakow Sinfonia at the Sacrum Profanum festival and most recently for a run of dates in Holland. In 2018 he was asked to compose a one-hour piece, 'Daydreams' for BBC's CBeebies, narrated by Olivia Coleman. 'All Night Chroma' further showcases the breadth of Jenkinson's talent away from the electronic sounds and the bass guitar where he is widely considered a virtuoso, both of which form the basis of his work as Squarepusher.
Speaking about his involvement and collaboration with McVinnie, Tom Jenkinson explains: "I have tried to investigate the more subtle and otherworldly sonic aspects of the organ. In particular I find myself drawn to the flute stops which are not what facilitate the grander sonic characteristics of the instrument, but to my ear are amongst the sweetest and strangest tonal colours that any instrument can produce. Collaborating with James has been an immensely enjoyable experience, not only for his astonishing musicianship but also for his receptivity to ideas and willingness to experiment."
"There are aspects of writing for organ which I find comparable to writing music for electronics. There is a very tangible weight to the amount of technology around you in an organ performance, unlike any other acoustic instrument I have any experience of. Sounds may be accessed by the touch of a button, such that sonic variety is achieved by mechanical means as much as it is by the performer's skill. In that way I see the organist as immersed in technology much more than performers of other acoustic instruments and, despite its long history, it thus seems an eternally modern instrument. Maybe there is something reminiscent of the dark glamour of a computer genius about the organist, wrapped up in machinery, remote from and indifferent to praise." 
James McVinnie adds: "Working with Tom on this project has been an incredible process. The music is technically challenging to realise, both in terms of playing the notes, but also fitting them to the rich and kaleidoscopic colours and timbres of the Royal Festival Hall Organ. This instrument is a pinnacle of mid-century design which caused a sensation in the musical world when it was first heard — it speaks with a clarity and freshness which, despite its rich and noble history, makes it an ideal vehicle for this new music."