Esinam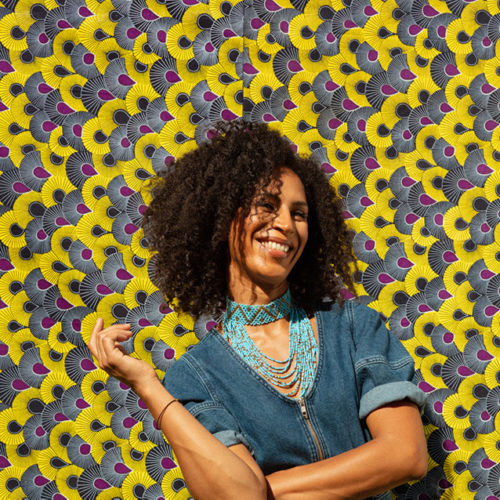 Shapes in Twilights of Infinity
—
Out September 3rd 2021
—
WERF Records
Built on futurist flute sounds, elaborate rhythms and sensitive melodies, 'Shapes in Twilights of Infinity' unfolds like a dreamlike path into an unparalleled musical universe. With her highly
anticipated first full album, multi-instrumentalist ESINAM invites us on a cosmic journey, a trip towards horizons coloured with sounds and influences that reach as far as the eye can see.
This record finds a balance between the acoustic and electronic, between the future and ancestral. The songs are deeply rooted in grooves and global sounds, at the same time composed and spontaneously evolving, always filled with a strong musical feeling. From 'New Dawn' with its pulsating beats, vivid flutes and poetical spoken word featuring of the Londoner Nadeem Din-Gabisi, over the soulful jazz vibe of 'Lost Dimensions', to the etheric melodies and mesme-rizing singing of South-African guest vocalist Sibusile Xaba on 'Flowing River': ESINAM delivers nothing less than a profound patchwork full of musical connections, where traces of house, trip hop and hip hop intertwine with tones from traditionals, blues and psychedelica.
Similar to this wide range of musical angles, her process of recording and producing is eclectic as well: ESINAM produced some of the tracks herself in her home studio, while others were re-corded with her full band, formed with three musicians – Axel Gilain on bass, Pablo Casella on guitars and Martin Méreau on drums and vibraphone – who she picked precisely for their musi-cal identities. The combination of their acoustic and electronic instruments brings a soulful and vibrant interpretation to ESINAM's compositions, uplifting their groovy vibe.
Based on loops, samples, impressions and field recordings, each song follows the other like a cycle that opens, evolves, transforms and returns to the starting point. 'Shapes in Twilights of Infinity' became a unique music that touches the soul with emotion, that grasps you, questions you, does you good. A music that is rooted in culture and tradition while flying far away, towards tomorrow, as a surprising and engaging infinity.
Esinam Dogbatse is a Belgian-Ghanaian multi-instrumentalist based in Brussels. Already at a very young age, she became fascinated by music, in particular by percussion instruments such as the tama. The piano was her first main instrument, but for practical reasons when traveling, Esinam soon opted for the flute. With her artist moniker ESINAM, she creates a musical world of her own, filled with rhythms, grooves, melodies and loops.
Solely carried away by sound, ESINAM succeeds in blending her soulful voice with traditional African percussion, adding here and there some electronic influences combined with sensible melodies and flute improvisations. Her compositions carry traces from numerous geographical, cultural and musical influences, which she collected from her personal history and through va-rious travels, encounters, tours and collaborations.
After starting her solo career as a "one woman band" – sampling and looping all instruments herself to build her tracks – she recently invited other musicians to join her in order to have a full live band. Still performing with both her solo and band set-up, ESINAM always unveils herself by orchestrating an authentic music full of poetry, with rhythms and melodies that make her a unique voice in today's jazz-and-beyond scene, leaving no listener untouched.
ESINAM self-titled debut EP was released on Sdban Records in September 2018 – now totally sold out. Very favourably received by the press, the music sector and the public, she has already been invited to play on famous stages: New Morning (FR), Botanique and its festival Les Nuits (BE), Eurosonic/Noorderslag (NL), le Printemps de Bourges (FR), Europavox (FR), Prague Music Festival (CZ), Mithra Jazz in Liege (BE), Copenhagen Jazz Festival (DK), Accra Jazz Festival (GH), Brussels Jazz Festival (BE), Visa For Music (MA), Bee-Flat (CH), Gamlestaden Jazz Festival (SE), Jazz Re: Freshed (UK), Sfinksfestival (BE); Gaume Jazz Festival (BE), Gent Jazz Festival (BE), …
As a flutist and also percussionist, she plays or has played in, amongst others, Marock'in Brass, Kel Assouf, Témé Tan and Sysmo. She has also been solicited recently by Baloji, Ibaaku and Jaguar Jaguar for musical collaborations. ESINAM has been invited as opening act for internati-onal artists including Mélanie de Biasio, Alsarah & The Nubatones, Selah Sue, Moses Sumney and Mayra Andrade.
ESINAM will release her debut album 'Shapes in Twilights of Infinity' on September 3rd 2021 via W.E.R.F. Records.