Emily Wells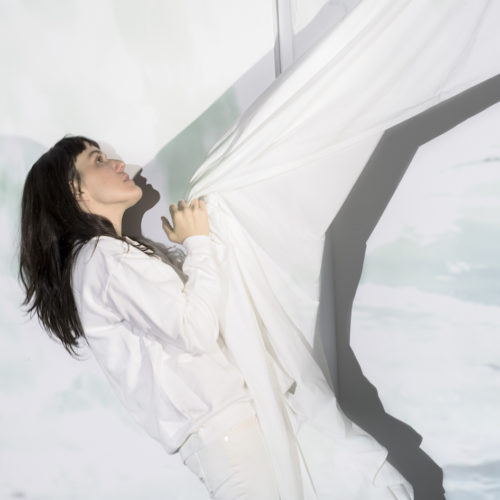 This World Is Too _____ For You
—
Out March 22nd 2019
—
Thesis + Instinct Records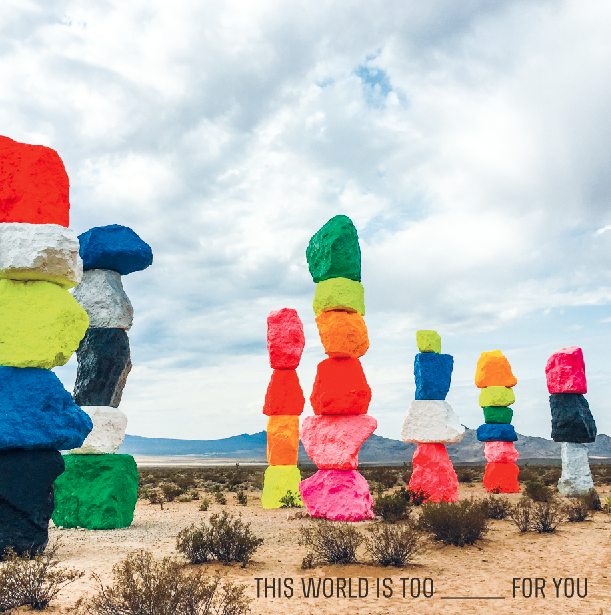 Emily Wells' work bridges pop and chamber music and explores concepts around human relation to the natural world rooted in a love for both. She is interested in the ways performance and recordings influence one another and works in both realms. At times she performs solo utilizing multiple instruments on stage (violin, synth, acoustic/electronic drums, voice), and at other times she performs with small orchestral ensembles or a single cellist and drummer. Her work also interacts with her video art practice through projection at performances which intersects imagery of contemporary dance, extreme weather and effects of climate crisis as well as protest footage from ACT UP. She has toured extensively throughout Europe and the United States and released multiple critically acclaimed recordings. Her work has appeared in both film and television and she is currently scoring her first feature length film.
Her latest full length album, This World Is Too _____ For You was born as a commission of new works for voice, electronics, strings and french horn originally intended for performance. Of the songs Emily says, "These songs are the rub between desire for and desire to strip oneself of all wanting. I got attached to those margins, the place to explore the humanity inside the dust and doom of our collective uncertainties. But they needed some space… A place for the _____. I wrote in major keys and in familiar forms, playful despite the heavy materials I was working with. Dystopias need scoring." As part of the commission Emily was able to choose an arranger to work with to help build out the songs, she chose composer / violinist Michi Wiancko. Emily would write and record sketches of the songs with layers of vocals and vocoder, synths, and beats and send them to Michi. Michi took these recordings and began creating a score, transcribing and arranging and composing, taking and bending melodies to create duets with french horn or lush percussive string parts which mimicked synth arpeggios or rhythms.
The first half of the works were finished in November of 2017 and performed in Minneapolis as part of the renowned Liquid Music Series (recent commissions include Bon Iver, Blood Orange, Philip Glass). At this point though it was clear the new material was to become a record. Wells had found a true musical kinship with Wiancko and she turned to a frequent collaborator Metropolis Ensemble who helped her commission the rest of the songs and expand the size of the ensemble. Metropolis also performs the chamber ensemble arrangements on the album. While the record as a whole was made over the course of a year and half in Wells' studio in Harlem (Manhattan, NY), the chamber ensemble was recorded in one day at a studio with a large live room in Brooklyn (Electric Garden Studio), the strings in one large room, and the poor french horn player sequestered in a sound booth. Emily says, "I knew I wanted the bleed of the strings, but also wanted control over the horn, to be able to effect and isolate it. The horn and the vocoder were my other singers… we had duets, took up some of the same melodies. The horn also was a bridge between the two worlds, that of the synths and drum programming I had used to compose the songs and the chamber arrangements. I wanted to keep the strings quite dry and alive, not wash them out in reverb and turn these complex intricate arrangements Michi had created into sentimental mush… But, I do love a shimmer on things and reverb and dreamy washes so treating the horn sometimes like a voice or a synth, plus its natural tones, helped the two worlds cohere."
After she had the chamber recordings in hand she had to find the most essentials parts, make room, cut and touch. The excellent composer/drummer Shayna Dunkleman (Xiu Xiu, Du Yun) came to Emily's studio and the two recorded intricate drums and percussion to fill out the sample based sound world Wells had been developing for the songs. Wells re-performed the vocals on a beautiful old Neumann U87 and sewed it all together. She took the songs to her friend and producer, Jacob Plasse, with whom she worked on "Promise", and they worked together over the course of a week to bring them into sharper focus. The final mix came together with Christopher Botta at his studio Fer Sounds in Brooklyn where the two spent many long days and nights experimenting with outboard gear, of which Botta has quite a collection, and getting the album to cohere as a sonic whole. The album was complete in December 2018.
Emily says of the songs, "I grew up with hymns and I often find myself drawn to a form that seeks redemption, even for transgressions unknown. They are an offering, an oath. As a queer kid raised in the south and the midwest by a minister and a preacher's daughter I am interested in the reclamation of themes and ideas that have often been used to constrain me." 
A little about the album cover: After seeing the image of Ugo Rondinone's Seven Magic Mountains in the Paris Review Wells cut it out and put it up in the studio to be in conversation with the work. She says, "These songs are about the human being interacting with the natural world. They wish to embrace as much as they wish to critique. I love how Rondinone's work accomplishes this — the interruption it poses on the vast silent desert, its playful fearlessness. I want for the songs to be of the same cloth."
While writing the album Emily was kept company and counseled by a book of lectures from Mary Ruefle, "Madness Rack & Honey" and John Berger's "About Looking". The thread sewn through whole album is from James Baldwin: "We've got to be as clear-headed about human beings as possible because we are still each other's only hope."